Certified Angler Instructor Course
Event Details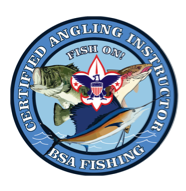 CERTIFIED ANGLER INSTRUCTOR
ONLINE CAI COURSE 2023 SE-1
**CURRENTLY THIS CLASS IS FULL AND NOT TAKING NEW REGISTRATIONS**
THERE WILL BE ANOTHER CLASS LATER THIS SPRING
This course will be offered virtually in six-week module sessions. Starting February 15, 2023 through March 29, 2023. Each Wednesday session will be from 7:00pm-9:00pm.
This CAI course is for adult leaders and Scouting youth age 15 and up who enjoy teaching fishing skills to our youth and want to enhance their teaching and event planning skills in the fishing area. This course is open to participants from all BSA councils nationwide.
Our classes will be taught online via Zoom on Wednesday nights from 7:00-9:00 pm EST. The course will run for six sessions running from February 15, 2023 through March 29, 2023. A Zoom link and password will be sent to participants prior to the start of the course.
The course will be delivered as follows:
Module 1 - February 15 (Intro)
Module 2- February 22 (Fishing Tackle)
Module 3 - March 1 (safety, Ethics, Fishery Management)
Module 4- March 15 (Fishing event, Where to find fish, Knots)
Module 5 March 22 (Casting, Fishing, Cleaning and cooking
Module 6 March 29 (Special offers, Deliver the Promise, Graduation)
The course fee is $10.00 which includes the Certified Angling Instructor patch and certificate upon completion. We send the certificate electronically. Register by February 10. Instructors include members of the BSA Fishing team that manage the CAI program, CAI Course Directors, and CAIs. We are blessed to have an experienced teaching team of seven for this course.
Learn more about the BSA's Certified Angler Instructor program, which trains leaders to execute fishing programs at the local council level. After completing the training make sure to update your training record with PAS Code: CS61
Find the CAI brochure here: BSA Fishing CAI Trifold Brochure
When & Where
Virtual training Session
Wednesday 02-15-2023 7:00 PM ET to 9:00 PM ET
Past