Santee Lodge Fall Fellowship 2022
Event Details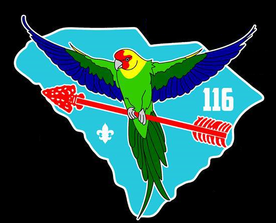 Fall Fellowship
Check in will be from 5-7:00pm on Friday, October 28, 2022 at Stallworth. Departure from October Fellowship will be at 11 am on Sunday, October 30, 2022. Summer camp tents will not be available, bring a tent. The deadline to register is October 24, 2022 by Midnight. Friday Night Supper will not be served unless you register for the Steak Dinner. This will be the last chance to do your Ordeal, Brotherhood and Vigil under Santee Lodge 116.
We are happy to announce that former members of Santee Lodge 116 are welcome to attend for the day on Saturday, October 29th. Come join us for the day and enjoy fellowship and lunch with your fellow Parakeets. To register as a guest, not a current member, please click on the "Santee Alumni' option for registration.
We also have the final patch set available for purchase through the registration for Fall Fellowship. It is aq pre-order only option. To be eligible for the pocket flap, you must be a registerd member of BSA and a current member of Santee Lodge 116 with your dues paid for the 2022 year. The chevron patch is available to all current and past Santee Lodge 116 members. There is a limit of 10 pocket flaps and 20 chevrons per person. There is also an option for Memorabilia Only for those not attending Fall Fellowship. Pre-order deadline is September 5, 2022.
When & Where
Camp Coker
Friday 10-28-2022 6:00 PM ET to
Sunday 10-30-2022 11:30 AM ET