Merit Badge University 2023
Event Details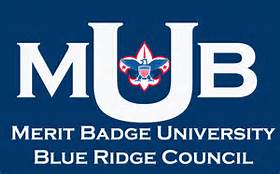 2023 BLUE RIDGE COUNCIL MERIT BADGE UNIVERSITY
Welcome to Blue Ridge Council Merit Badge University 2023! We will be again offering it over 2 weekends this year, January 21 and January 28, so sign up for both weekends! The weekend will be mainly at Buncombe Street United Methodist Church and various satellite locations (maps attached). Second weekend will mostly be at Roper Mountain Science Center for a weekend of STEM merit badges.
We have a limited number of classes and class maximums this year but we will be add classes as we confirm instructors and safety so check back often. If you do not pay at the time of initial registration, this mainly applies to troops registering their Scouts versus individual Scouts, make sure you "book" the registration. Contact Roy Schumpert to verify as if it not "booked" or paid it will not show the Scouts in classes as they are not fully registered. We hope BRC MBU will allow Scouts to have new experiences as they travel on their journey to 1st Class or Eagle Scout. This event is not for Cub Scouts, Webelos or Arrow of Light Scouts.
Scouts will need pen, paper and merit badge worksheets (instructors will not have them). If a class goes past 1pm, they will need to bring a lunch. Please see additional instructions under each merit badge.
Don't miss out on Adult Training offered: Scoutmaster Specific, Committee and Citizenship in Society
We look forward to another great event and thank you for supporting our event!
When & Where
Session 1: January 21st, 2023Buncombe Street United Methodist Church
Saturday 01-21-2023 8:00 AM ET to 5:00 PM ET
Past
---
Session 2: January 28th, 2023Roper Mountain Science Center
Saturday 01-28-2023 8:00 AM ET to 5:00 PM ET
Past