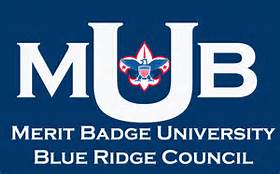 In council boy scout registration is underway for Blue Ridge Council Merit Badge University 2018 on 1/20/18. We will keep registration to in council troops until 11/24/17 at which point we open it up to out of council troops. We hope to see you all there again this year.
This is the payment site to pay for your merit badges reserved through meritbadge.info.
Most Merit Badges are $10, however some courses require additional fees and may be $20, $25, or $30. The following page will allow you to choose the appropriate fees, and lists classes by the fee required.
If you need to see which courses your unit registered for, you can login and check the meritbadge.info site HERE.
Please note: payment does not guarantee you a spot in the merit badge course. Complete registration at the meritbadge.info site first, then complete payment.
More information, FAQs, maps and waivers can be found at HERE. Please do not email with a question before you check the site as most questions will have answers there.
Event Questions Contact - brcmbu@gmail.com
Chris Loewer
Chancellor
brcmbu@gmail.com

Alice Courtland
District Director
Alice.Courtland@Scouting.org
864-233-8363

Blue Ridge Council Service Center
1 Park Plaza
Greenville, South Carolina 29607
Phone: 864-233-8363

2018 Merit Badge UniversityBuncombe Street United Methodist Church
Saturday 01-20-2018 8:00 AM to
Saturday 01-27-2018 5:00 PM
Past