Event Details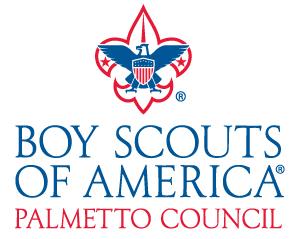 Online Merit Badge University
The Palmetto Council is offering online Merit Badge instruction to all Scouts. Merit Badge instruction will vary in length. All instructors are registered Scouters and Merit Badge Instructors. The scout(s) will receive a link to log into their class (no less than 24 hours before the start of the class). Classes will be held via Zoom. Scouts will have various requirements to complete each day before the next day's classes. Scouts will need a personal gmail account (non-school based) to submit assignments via Google Classroom. We do offer a few non-merit badge classes (Knots 101, Leadership 101, Risk Management 101, Backpacking 101 and ASL: Oath & Law). These are informative classes, but not merit badges.
After the last day of instruction, instructors will confirm via email with the Scout and their parent/guardian that the requirements were completed. Blue cards will be provided digitally to the scout after the week is over and only after the merit badge counselor has verified that the individual scout has completed all listed requirements under that specific merit badge.
Each merit badge does include a $5 fee per badge to help cover online registration and the Zoom classrooms except Stamp Collecting. Stamp Collecting cost $20, but includes ALL supplies you need to finish the badge that will be mailed to your home. No refunds. Courses will be completed online unless they are listed below with requirements that will NOT be completed during the session. You can complete them before, during or after outside of the class and sunmit the work for approval.
Animal Science: 7
Bird Study: 5,8(a,b or c)
Bugling: 6
Citizenship in the Community: 3,4,7,8
Communications: 3,4,9
Cooking: 4,5,6
Crime Prevention: 2,4a,4b,5,6a,7a,9d
Emergency Preparedness: 1,5,7,9
Entrepreneurship: 3,4,5
Family Life: 3,5
First Aid: Need to be First Class, bring a pillow and large ball
Genealogy: 3,6,7,9
Inventing: 2,6,7,8
Law: 3,4,6a,8,9,10,11
Mammal Study: 3c,5
Moviemaking: 1,2,3
Nature: a1,a2,c2,e2,g1,g2,h1,h2
Personal Fitness: 1a,1b,6a,6b,7,8
Personal Management: 1a,1b,1c,8a,8b,8c,9a,9b,9c,9d,9e
Pets: 1
Photography: 2
Programming: cyberchip
Salesmanship: 3,5,6,7
Scholarship: 1,2c,3,4,5
Scouting Heritage: 5,6,8(2 of 3)
Weather: 6,9a,11
When & Where
Art (M-Th 3-4)ONLINE
Monday 04-06-2020 3:00 AM ET to
Thursday 04-09-2020 4:00 PM ET
Past
---
Music (M-Th 9-10)ONLINE
Monday 04-06-2020 9:00 AM ET to
Thursday 04-09-2020 10:00 AM ET
Past
---
Bugling (M-Th 10:30-11:30)ONLINE
Monday 04-06-2020 10:30 AM ET to
Thursday 04-09-2020 11:30 AM ET
Past
---
Personal Management (M-F 11-12)ONLINE
Monday 04-06-2020 11:00 AM ET to
Friday 04-10-2020 12:00 PM ET
Past
---
Entrepreneurship (M-Th 12-1)ONLINE
Monday 04-06-2020 12:00 PM ET to
Thursday 04-09-2020 1:00 PM ET
Past
---
Citizenship in the Community (M-Th 1:30-2:30)ONLINE
Monday 04-06-2020 1:30 PM ET to
Thursday 04-09-2020 2:30 PM ET
Past
---
Citizenship in the Nation (M-Th 4:30-5:30)ONLINE
Monday 04-06-2020 4:30 PM ET to
Thursday 04-09-2020 5:30 PM ET
Past
---
Mining in Society (M-T 6-8)ONLINE
Monday 04-06-2020 6:00 PM ET to
Tuesday 04-07-2020 8:00 PM ET
Past
---
American Sign Language: Learn the Scout Law (F 1-2) (NOT A MERIT BADGE)ONLINE
Friday 04-10-2020 1:00 PM ET to 2:00 PM ET
Past
---
Leadership 101 (F 3-4) (NOT A MERIT BADGE)ONLINE
Friday 04-10-2020 3:00 PM ET to 4:00 PM ET
Past
---
Family Life (Sat 9-12)ONLINE
Saturday 04-11-2020 9:00 AM ET to 12:00 PM ET
Past
---
Communication (M-F 12-1)ONLINE
Monday 04-13-2020 12:00 PM ET to
Friday 04-17-2020 1:00 PM ET
Past
---
Inventing (M-Th 1:30-2:30)ONLINE
Monday 04-13-2020 1:30 PM ET to
Thursday 04-16-2020 2:30 PM ET
Past
---
Personal Management #2ONLINE
Monday 04-13-2020 1:30 PM ET to
Friday 04-17-2020 2:30 PM ET
Past
---
Moviemaking (M-Th 3-4)ONLINE
Monday 04-13-2020 3:00 PM ET to
Thursday 04-16-2020 4:00 PM ET
Past
---
Photography (M-Th 3-4)ONLINE
Monday 04-13-2020 3:00 PM ET to
Thursday 04-16-2020 4:00 PM ET
Past
---
Citizenship in the World (M-Th 4:30-5:30)ONLINE
Monday 04-13-2020 4:30 PM ET to
Thursday 04-16-2020 5:30 PM ET
Past
---
Geology (M-T 6-8)ONLINE
Monday 04-13-2020 6:00 PM ET to
Tuesday 04-14-2020 8:00 PM ET
Past
---
American Cultures (M-W 7-8)ONLINE
Monday 04-13-2020 7:00 PM ET to
Wednesday 04-15-2020 8:00 PM ET
Past
---
Scholarship (Th 8-9:30)ONLINE
Thursday 04-16-2020 8:00 PM ET to 9:30 PM ET
Past
---
American Sign Language: Learn the Scout Oath (F 12-1)ONLINE
Friday 04-17-2020 12:00 PM ET to 1:00 PM ET
Past
---
American Sign Language: Learn the Scout Oath (F 1-2) (NOT A MERIT BADGE)ONLINE
Friday 04-17-2020 1:00 PM ET to 2:00 PM ET
Past
---
Backpacking 101 (F 3-4)ONLINE
Friday 04-17-2020 3:00 PM ET to 4:00 PM ET
Past
---
Emergency Preparedness (Sat 9-12)ONLINE
Saturday 04-18-2020 9:00 AM ET to 12:00 PM ET
Past
---
Citizenship in the Community (M-Th 12-1)ONLINE
Monday 04-20-2020 12:00 PM ET to
Thursday 04-23-2020 1:00 PM ET
Past
---
Music (M-Th from 12-1)ONLINE
Monday 04-20-2020 12:00 PM ET to
Thursday 04-23-2020 1:00 PM ET
Past
---
Scouting Heritage (M-W 12-1)ONLINE
Monday 04-20-2020 12:00 PM ET to
Wednesday 04-22-2020 1:00 PM ET
Past
---
Pets (M-W 1:30-2:30)ONLINE
Monday 04-20-2020 1:30 PM ET to
Wednesday 04-22-2020 2:30 PM ET
Past
---
Photography (M-Th 1:30-2:30)ONLINE
Monday 04-20-2020 1:30 PM ET to
Thursday 04-23-2020 2:30 PM ET
Past
---
Graphic Art (M-Th 3-4)ONLINE
Monday 04-20-2020 3:00 PM ET to
Thursday 04-23-2020 4:00 PM ET
Past
---
Public Speaking (M-Th 3-4)ONLINE
Monday 04-20-2020 3:00 PM ET to
Thursday 04-23-2020 4:00 PM ET
Past
---
Citizenship in the World (M-Th 4:30-5:30)ONLINE
Monday 04-20-2020 4:30 PM ET to
Thursday 04-23-2020 5:30 PM ET
Past
---
Crime Prevention (M-Th 4:30-5:30)ONLINE
Monday 04-20-2020 4:30 PM ET to
Thursday 04-23-2020 5:30 PM ET
Past
---
Digital Technology (M-T 6-8)ONLINE
Monday 04-20-2020 6:00 PM ET to
Tuesday 04-21-2020 8:00 PM ET
Past
---
Weather (M-Th 8-9)ONLINE
Monday 04-20-2020 8:00 PM ET to
Thursday 04-23-2020 9:00 PM ET
Past
---
Genealogy (Th 8-9:30)ONLINE
Thursday 04-23-2020 8:00 PM ET to 9:30 PM ET
Past
---
American Sign Language: Learn the Scout Oath (F 12-1) (NOT A MERIT BADGE)ONLINE
Friday 04-24-2020 12:00 PM ET to 1:00 PM ET
Past
---
American Sign Language: Learn the Scout Law (F 1-2) (NOT A MERIT BADGE)ONLINE
Friday 04-24-2020 1:00 PM ET to 2:00 PM ET
Past
---
Knots 101 (F 3-4) (NOT A MERIT BADGE)ONLINE
Friday 04-24-2020 3:00 PM ET to 4:00 PM ET
Past
---
Emergency Prep (Sat 9-12)ONLINE
Saturday 04-25-2020 9:00 AM ET to 12:00 PM ET
Past
---
Family Life (Sat 9-12)ONLINE
Saturday 04-25-2020 9:00 AM ET to 12:00 PM ET
Past
---
Digital Technology (M-Th 10:30-11:30)ONLINE
Monday 04-27-2020 10:30 AM ET to
Thursday 04-30-2020 11:30 AM ET
Past
---
JournalismONLINE
Monday 04-27-2020 12:00 PM ET to
Thursday 04-30-2020 1:00 PM ET
Past
---
Weather (M-W 12-1)ONLINE
Monday 04-27-2020 12:00 PM ET to
Wednesday 04-29-2020 1:00 PM ET
Past
---
Nature (M-W 1:30-2:30)ONLINE
Monday 04-27-2020 1:30 PM ET to
Wednesday 04-29-2020 2:30 PM ET
Past
---
Photography (M-Th from 1:30-2:30)ONLINE
Monday 04-27-2020 1:30 PM ET to
Thursday 04-30-2020 2:30 PM ET
Past
---
Salesmanship (M-Th 1:30-2:30)ONLINE
Monday 04-27-2020 1:30 PM ET to
Thursday 04-30-2020 2:30 PM ET
Past
---
Collections (M-Th 3-4)ONLINE
Monday 04-27-2020 3:00 PM ET to
Thursday 04-30-2020 4:00 PM ET
Past
---
Cooking (M-Th 3-4)ONLINE
Monday 04-27-2020 3:00 PM ET to
Thursday 04-30-2020 4:00 PM ET
Past
---
Scholarship (M-Th 3-4)ONLINE
Monday 04-27-2020 3:00 PM ET to
Thursday 04-30-2020 4:00 PM ET
Past
---
Personal Management #3 (M-F from 3:30-4:30)ONLINE
Monday 04-27-2020 3:30 PM ET to
Friday 05-01-2020 4:30 PM ET
Past
---
Citizenship in the Nation (M-Th 4:30-5:30)ONLINE
Monday 04-27-2020 4:30 PM ET to
Thursday 04-30-2020 5:30 PM ET
Past
---
Law (M-Th 4:30-5:30)ONLINE
Monday 04-27-2020 4:30 PM ET to
Thursday 04-30-2020 5:30 PM ET
Past
---
Citizenship in the Nation (M-T 6-8)ONLINE
Monday 04-27-2020 6:00 PM ET to
Tuesday 04-28-2020 8:00 PM ET
Past
---
Digital Technology #2 (M-Th 6-7)ONLINE
Monday 04-27-2020 6:00 PM ET to
Thursday 04-30-2020 7:00 PM ET
Past
---
american sign language: Learn the Scout Oath (F 12-1) (NOT A MERIT BADGE)ONLINE
Friday 05-01-2020 12:00 PM ET to 1:00 PM ET
Past
---
American Sign Language: Learn the Scout Law (F 1-2) (NOT A MERIT BADGE)ONLINE
Friday 05-01-2020 1:00 PM ET to 2:00 PM ET
Past
---
Risk Management 101 for Scout Outings (NOT A MERIT BADGE)ONLINE
Friday 05-01-2020 3:00 PM ET to 4:00 PM ET
Past
---
Music (M-Th from 9-10)ONLINE
Monday 05-04-2020 9:00 AM ET to
Thursday 05-07-2020 10:00 AM ET
Past
---
Bugling (M-Th from 10:30-11:30)ONLINE
Monday 05-04-2020 10:30 AM ET to 11:30 AM ET
Past
---
First Aid (M-F 12-1)ONLINE
Monday 05-04-2020 12:00 PM ET to
Friday 05-08-2020 1:00 PM ET
Past
---
Journalism (M-Th 12-1)ONLINE
Monday 05-04-2020 12:00 PM ET to
Thursday 05-07-2020 1:00 PM ET
Past
---
Citizenship in the Community (M-Th 1:30-2:30)ONLINE
Monday 05-04-2020 1:30 PM ET to
Thursday 05-07-2020 11:59 PM ET
Past
---
Communication (M-F 1:30-2:30)ONLINE
Monday 05-04-2020 1:30 PM ET to
Friday 05-08-2020 2:30 PM ET
Past
---
Communication (M-F 3-4)ONLINE
Monday 05-04-2020 3:00 PM ET to
Friday 05-08-2020 4:00 PM ET
Past
---
Moviemaking (M-Th 3-4)ONLINE
Monday 05-04-2020 3:00 PM ET to
Thursday 05-07-2020 4:00 PM ET
Past
---
Personal Fitness (M-Th 4:30-5:30)ONLINE
Monday 05-04-2020 4:30 PM ET to
Thursday 05-07-2020 5:30 PM ET
Past
---
Citizenship in the World (M-Th 5-6)ONLINE
Monday 05-04-2020 5:00 PM ET to
Thursday 05-07-2020 6:00 PM ET
Past
---
Citizenship in the World (M-T 6-8)ONLINE
Monday 05-04-2020 6:00 PM ET to
Tuesday 05-05-2020 8:00 PM ET
Past
---
Graphic Arts (M-T 6-8)ONLINE
Monday 05-04-2020 6:00 PM ET to
Tuesday 05-05-2020 8:00 PM ET
Past
---
Programming (T-Th 6-7)ONLINE
Tuesday 05-05-2020 6:00 PM ET to
Thursday 05-07-2020 7:00 PM ET
Past
---
Tips & Tricks: Advanced Fire StartingONLINE
Friday 05-08-2020 1:30 PM ET to 2:30 PM ET
Past
---
Tips & Tricks: Mountain Biking (F 3-4)ONLINE
Friday 05-08-2020 3:00 PM ET to 4:00 PM ET
Past
---
Genealogy (M-T 10-11:30)ONLINE
Monday 05-11-2020 10:00 AM ET to
Tuesday 05-12-2020 11:30 AM ET
Past
---
Digital Technology (M-Th 10:30-11:30)ONLINE
Monday 05-11-2020 10:30 AM ET to
Thursday 05-14-2020 11:30 PM ET
Past
---
Citizenship in the Community (M-Th 12-1)ONLINE
Monday 05-11-2020 12:00 PM ET to
Thursday 05-14-2020 1:00 PM ET
Past
---
Personal Management (M-F 12-1)ONLINE
Monday 05-11-2020 12:00 PM ET to
Friday 05-15-2020 1:00 PM ET
Past
---
Salesmanship (M-Th 1-2)ONLINE
Monday 05-11-2020 1:00 PM ET to
Friday 05-15-2020 2:00 PM ET
Past
---
Entrepreneurship (M-Th 1:30-2:30)ONLINE
Monday 05-11-2020 1:30 PM ET to
Thursday 05-14-2020 2:30 PM ET
Past
---
Pets (M-Th 3-4)ONLINE
Monday 05-11-2020 3:00 PM ET to
Thursday 05-14-2020 4:00 PM ET
Past
---
Inventing (M-Th 3-4)ONLINE
Monday 05-11-2020 3:30 PM ET to
Thursday 05-14-2020 4:00 PM ET
Past
---
Communication (M-F 4:30-5:30)ONLINE
Monday 05-11-2020 4:30 PM ET to
Friday 05-15-2020 5:30 PM ET
Past
---
Emergency Prep (T-Th 6-7)ONLINE
Tuesday 05-12-2020 6:00 PM ET to
Thursday 05-14-2020 7:00 PM ET
Past
---
Architecture (Th-F 11:30-1)ONLINE
Thursday 05-14-2020 11:30 AM ET to
Friday 05-15-2020 1:00 PM ET
Past
---
Tips & Tricks: Basic Bicycling MaintenanceONLINE
Friday 05-15-2020 10:30 AM ET to 12:00 PM ET
Past
---
Tips & Tricks: Canoeing/Kayaking (F 3-4)ONLINE
Friday 05-15-2020 3:00 PM ET to 4:00 PM ET
Past
---
Music (M-Th 9-10)ONLINE
Monday 05-18-2020 9:00 AM ET to
Thursday 05-21-2020 10:00 AM ET
Past
---
Stamp CollectingONLINE
Monday 05-18-2020 10:00 AM ET to
Thursday 05-21-2020 11:00 AM ET
Past
---
Weather (M-Th 10:30-11:30)ONLINE
Monday 05-18-2020 10:30 AM ET to
Thursday 05-21-2020 11:30 AM ET
Past
---
Communication (M-F 12-1)ONLINE
Monday 05-18-2020 12:00 PM ET to
Friday 05-22-2020 1:00 PM ET
Past
---
Citizenship in the Community (M-Th 1:30-2:30)ONLINE
Monday 05-18-2020 1:30 PM ET to
Thursday 05-21-2020 2:30 PM ET
Past
---
Moviemaking (M-Th 3-4)ONLINE
Monday 05-18-2020 3:00 PM ET to
Thursday 05-21-2020 4:00 PM ET
Past
---
Pets (M-Th 3-4)ONLINE
Monday 05-18-2020 3:00 PM ET to
Thursday 05-21-2020 4:00 PM ET
Past
---
Personal Fitness (M-Th 4:30-5:30)ONLINE
Monday 05-18-2020 4:30 PM ET to
Thursday 05-21-2020 5:30 PM ET
Past
---
Citizenship in the Nation (M-Th 5-6)ONLINE
Monday 05-18-2020 5:00 PM ET to
Thursday 05-21-2020 6:00 PM ET
Past
---
Tips & Tricks: Backcountry CookingONLINE
Friday 05-22-2020 3:00 PM ET to 4:00 PM ET
Past
---
American Heritage (M-Th 10:30-11:30)ONLINE
Monday 05-25-2020 10:30 AM ET to
Thursday 05-28-2020 11:30 AM ET
Past
---
Communication (M-F 12-1)ONLINE
Monday 05-25-2020 12:00 PM ET to
Friday 05-29-2020 1:00 PM ET
Past
---
Photography (12-1)ONLINE
Monday 05-25-2020 12:00 PM ET to
Thursday 05-28-2020 1:00 PM ET
Past
---
Moviemaking (M-T 1:30-2:30)ONLINE
Monday 05-25-2020 1:30 PM ET to
Thursday 05-28-2020 2:30 PM ET
Past
---
Citizenship in the Community (3-4)ONLINE
Monday 05-25-2020 3:00 PM ET to
Thursday 05-28-2020 4:00 PM ET
Past
---
Personal Management (M-F 3-4)ONLINE
Monday 05-25-2020 3:00 PM ET to
Friday 05-29-2020 4:00 PM ET
Past
---
Soil & Water Conservation (M-Th 4:30-5:30)ONLINE
Monday 05-25-2020 4:30 PM ET to
Thursday 05-28-2020 5:30 PM ET
Past
---
Cooking (T-Th 6:30-7:30)ONLINE
Tuesday 05-26-2020 6:30 PM ET to
Thursday 05-28-2020 7:30 PM ET
Past
---
Bird Study (M-Th 10-11)ONLINE
Monday 06-01-2020 11:00 AM ET to
Thursday 06-04-2020 11:00 AM ET
Past
---
Citizenship in the Nation (M-Th 11-12)ONLINE
Monday 06-01-2020 11:00 AM ET to
Thursday 06-04-2020 12:00 PM ET
Past
---
Stamp Collecting (M-Th 11-12)ONLINE
Monday 06-01-2020 11:00 AM ET to
Thursday 06-04-2020 12:00 PM ET
Past
---
Mammal Study (M-Th 1:30-2:30)ONLINE
Monday 06-01-2020 1:30 PM ET to
Thursday 06-04-2020 2:30 PM ET
Past
---
Public Speaking (M-Th 1:30-2:30)ONLINE
Monday 06-01-2020 1:30 PM ET to
Thursday 06-04-2020 2:30 PM ET
Past
---
First Aid (M-F from 3-4)ONLINE
Monday 06-01-2020 3:00 PM ET to
Friday 06-05-2020 4:00 PM ET
Past
---
Music (M-Th 3-4)ONLINE
Monday 06-01-2020 3:00 PM ET to
Thursday 06-04-2020 4:00 PM ET
Past
---
Photography (M-Th 3-4)ONLINE
Monday 06-01-2020 3:00 PM ET to
Thursday 06-04-2020 4:00 PM ET
Past
---
Communication (M-F 4:30-5:30)ONLINE
Monday 06-01-2020 4:30 PM ET to
Friday 06-05-2020 5:30 PM ET
Past
---
Crime Prevention (M-Th 4:30-5:30)ONLINE
Monday 06-01-2020 4:30 PM ET to
Thursday 06-04-2020 5:30 PM ET
Past
---
Engineering (M-Th 8-9)ONLINE
Monday 06-01-2020 8:00 PM ET to
Thursday 06-04-2020 9:30 PM ET
Past
---
Genealogy (T 8-9:30)ONLINE
Tuesday 06-02-2020 8:00 PM ET to 9:30 PM ET
Past
---
Scholarship (Th 8-9:30)ONLINE
Thursday 06-04-2020 8:00 PM ET to 9:30 PM ET
Past
---
Animal Science (M-Th 10-11)ONLINE
Monday 06-08-2020 10:00 AM ET to
Thursday 06-11-2020 11:00 AM ET
Past
---
Bugling (M-Th 11-12)ONLINE
Monday 06-08-2020 11:00 AM ET to
Thursday 06-11-2020 12:00 PM ET
Past
---
Communication (M-F 11-12)ONLINE
Monday 06-08-2020 11:00 AM ET to
Friday 06-12-2020 12:00 PM ET
Past
---
Citizenship in the Community (M-Th 1:30-2:30)ONLINE
Monday 06-08-2020 1:30 PM ET to
Thursday 06-11-2020 2:30 PM ET
Past
---
Personal Management (M-F 1:30-2:30)ONLINE
Monday 06-08-2020 1:30 PM ET to
Friday 06-12-2020 2:30 PM ET
Past
---
Law (M-Th 3-4)ONLINE
Monday 06-08-2020 3:00 PM ET to
Thursday 06-11-2020 4:00 PM ET
Past
---
Scholarship (M-Th 3-4)ONLINE
Monday 06-08-2020 3:00 PM ET to
Thursday 06-11-2020 4:00 PM ET
Past
---
Programming (T-Th 6-7)ONLINE
Tuesday 06-09-2020 6:00 PM ET to
Thursday 06-11-2020 7:00 PM ET
Past
---
Architecture (Th-F 11:30-1)ONLINE
Thursday 06-11-2020 11:30 AM ET to
Friday 06-12-2020 1:00 PM ET
Past
---
Pets & Dog CareONLINE
Monday 06-15-2020 11:00 AM ET to
Thursday 06-18-2020 12:00 PM ET
Past
---
Stamp CollectingONLINE
Monday 06-15-2020 11:00 AM ET to
Thursday 06-18-2020 12:00 PM ET
Past
---
First Aid (M-F 1:30-2:30)ONLINE
Monday 06-15-2020 1:30 PM ET to
Friday 06-19-2020 2:30 PM ET
Past
---
Mining in Society (M-Th 1:30-2:30)ONLINE
Monday 06-15-2020 1:30 PM ET to
Thursday 06-18-2020 2:30 PM ET
Past
---
Public Speaking (M-Th 1:30-2:30)ONLINE
Monday 06-15-2020 1:30 PM ET to
Thursday 06-18-2020 2:30 PM ET
Past
---
Communication (M-F 3-4)ONLINE
Monday 06-15-2020 3:00 PM ET to
Friday 06-19-2020 4:00 PM ET
Past
---
Salesmanship (M-Th 3-4)ONLINE
Monday 06-15-2020 3:00 PM ET to
Thursday 06-18-2020 4:00 PM ET
Past
---
Music (M-Th 4:30-5:30)ONLINE
Monday 06-15-2020 4:30 PM ET to
Thursday 06-18-2020 5:30 PM ET
Past
---
Architecture (Th-F 11:30-1)ONLINE
Thursday 06-18-2020 11:30 AM ET to
Friday 06-19-2020 1:00 PM ET
Past
---
Pets & Dog Care (M-Th 11-12)ONLINE
Monday 06-22-2020 11:00 AM ET to
Thursday 06-25-2020 12:00 PM ET
Past
---
Communication (M-F 1:30-2:30)ONLINE
Monday 06-22-2020 1:30 PM ET to
Friday 06-26-2020 2:30 PM ET
Past
---
Personal Management (M-F 3-4)ONLINE
Monday 06-22-2020 3:00 PM ET to
Friday 06-26-2020 4:00 PM ET
Past
---
Bugling (M-Th 4:30-5:30)ONLINE
Monday 06-22-2020 4:30 PM ET to
Thursday 06-25-2020 5:30 PM ET
Past
---
Weather (M-Th 8-9 PM)ONLINE
Monday 06-22-2020 8:00 PM ET to
Thursday 06-25-2020 9:00 PM ET
Past
---
Architecture (Th-F 11:30-1)ONLINE
Thursday 06-25-2020 11:30 AM ET to
Friday 06-26-2020 1:00 PM ET
Past
---
Chess (M-Th 9-10, F 9-12)ONLINE
Monday 07-13-2020 9:00 AM ET to
Friday 07-17-2020 10:00 AM ET
Past
---
American Heritage (M-Th 9:30-10:30)ONLINE
Monday 07-13-2020 9:30 AM ET to
Thursday 07-16-2020 10:30 AM ET
Past
---
Bird Study (M-Th 9:30-10:30)ONLINE
Monday 07-13-2020 9:30 AM ET to
Thursday 07-16-2020 10:30 AM ET
Past
---
Digital Technology (M-Th 10:30-11:30)ONLINE
Monday 07-13-2020 10:30 AM ET to
Thursday 07-16-2020 11:30 AM ET
Past
---
Stamp Collecting (M-Th 11-12)ONLINE
Monday 07-13-2020 11:00 AM ET to
Thursday 07-16-2020 12:00 PM ET
Past
---
Citizenship in the Community (M-Th 12-1)ONLINE
Monday 07-13-2020 12:00 PM ET to
Thursday 07-16-2020 1:00 PM ET
Past
---
Communication (M-F 1:30-2:30)ONLINE
Monday 07-13-2020 1:30 PM ET to
Friday 07-17-2020 2:30 PM ET
Past
---
Mammal Study (M-Th from 1:30-2:30)ONLINE
Monday 07-13-2020 1:30 PM ET to
Thursday 07-16-2020 2:30 PM ET
Past
---
American Heritage (M-Th from 9:30-10:30)ONLINE
Monday 07-20-2020 9:30 AM ET to
Thursday 07-23-2020 10:30 AM ET
Past
---
Digital Technology (M-Th 10:30-11:30)ONLINE
Monday 07-20-2020 10:30 AM ET to
Thursday 07-23-2020 11:30 AM ET
Past
---
Stamp Collecting (M-Th 11-12)ONLINE
Monday 07-20-2020 11:00 AM ET to
Thursday 07-23-2020 12:00 PM ET
Past
---
Photography (M-Th from 12:30-1:30)ONLINE
Monday 07-20-2020 12:30 PM ET to
Thursday 07-23-2020 1:30 PM ET
Past
---
Personal Management (M-F 2-3)ONLINE
Monday 07-20-2020 2:00 PM ET to
Friday 07-24-2020 3:00 PM ET
Past
---
Environmental Science (M-Th 3:30-4:30)ONLINE
Monday 07-20-2020 3:30 PM ET to
Thursday 07-23-2020 4:30 PM ET
Past