2023 University of Scouting
Event Details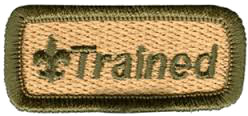 The University of Scouting is back!
Come enjoy training and fellowship from 8:00 a.m. to 4:00 p.m. on Saturday, October 14, at the McCann School of Business and Technology at 7495 Westbranch Highway in Lewisburg Pa. Eight classrooms going at the same time will ensure that there is something for everyone!
There will be a lunch break from 11:30 a.m. to 12:30 p.m. Pizza and water will be provided for lunch. Be green--please bring your own beverage cup with lid.
During this online registration, you'll be asked to select your classes. Some are an hour long, while a few are two hours or more with a break in the middle. Classes are 55 minutes long with 5 minutes to move to your next class location.
Registration is $10 and will cover your classes, lunch, and a limited edition patch.
The registration cost for staff is $7. Staff can register to take classes when they are not teaching. Please only register for the classes you plan to be a participant in. You do NOT need to register for the classes you are teaching.
The classes include:
Den chief training--Cubmasters and Den leaders are encouraged to attend also. Two periods. Den chiefs should bring the Den Chief Handbook.
ScoutBook
Guiding Scouts from Life to Eagle
Merit Badge Counselor Training
Youth Protection Training in person. Two periods
Dutch Oven Cooking and Care
Unit Promotion 101
District Committee Positions and Responsibilities
More! See our Course Catalog!
The schedule is:
7:30 a.m. Sign in
8:10 a.m. Opening
8:30 a.m. Period 1
9:30 a.m. Period 2
10:30 a.m. Period 3
11:30 a.m. Lunch
12:30 p.m. Period 4
1:30 p.m. Period 5
2:30 p.m. Period 6
3:30 p.m. Closing
When & Where
University of ScoutingMcCann School of Business and Technology
Saturday 10-14-2023
7:30 AM ET to 4:00 PM ET