2021 University of Scouting
Event Details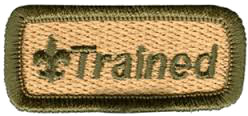 The University of Scouting is back!
Come enjoy training and fellowship from 8:50 a.m. to 4:15 p.m. on Saturday, Nov. 6, at the Susquehanna Valley Church of Christ, 200 Roosevelt Ave., Selinsgrove. Three classrooms going at the same time will ensure that there is something for everyone!
For Youth, Den Chief training will be held from 9:30 a.m. to 11:30 a.m. The youth can then stay for other training topics of interest to them.
There will be a lunch break from 12:30 to 1 p.m. Please bring a brown bag lunch, as there will not be enough time to run out for something. Coffee and water will be provide. Be green--please bring your own beverage cup with lid.
During this online registration, you'll be asked to select your classes. Some are an hour long, while a few are two hours with a break in the middle. All are included for a $5 registration fee. The classes include:
Den chief training--Cubmasters and Den leaders are encouraged to attend also. Two periods. Den chiefs should bring the Den Chief Handbook.
ScoutBook
Leader Training for Guiding Scouts from Life to Eagle
BlackPug registration for Council and District events and Camp K
How to use the Journey to Excellence Workbook
Orienteering Basics (bring a compass). Two periods
Merit Badge Counselor Training
Youth Protection Training in person. Two periods
Invitation Manager
STEAM Activities for Cub Scouts
Guide to Scouts BSA Advancement in the Troop
District Committee Position Job Descriptions--What do I do now?
How to run Introduction to Leadership Skills for Troops
The schedule is:
8:50 a.m. sign in
9:10 a.m. Opening in sanctuary (no food or beverages, please)
9:30 a.m. Period 1
10:30 a.m. Period 2
11:30 a.m. Period 3
12:30 to 1 p.m. brown bag lunch
1 p.m. Period 4
2 p.m. Period 5
3 p.m. Period 6
4 p.m. Closing in sanctuary (no food or beverages please)
When & Where
University of ScoutingSusquehanna Valley Church of Christ
Saturday 11-06-2021 8:45 AM ET to 4:15 PM ET