Scouts BSA Summer Camp 2023
Event Details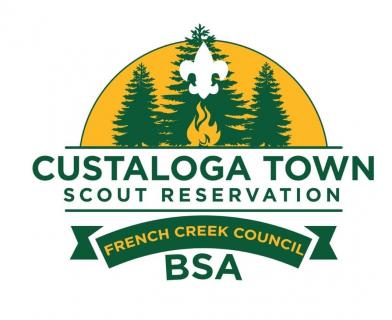 This is the on-line registration system for Scouts BSA Resident Summer Camp at Custaloga Town Scout Reservation.
Registration is now open for units to request/reserve a site and make a $25 Per person registration. This registration will secure a week and campsite under the terms outlined in the Leaders Guide.
A place will be held for each $25.00 deposit. Single $25.00 reservations do not hold an entire site.
The Crooked Kid backpacking goat adventure will be $40.

Payments may be made by credit card, mailing in a check, deducting from your unit account at the McGarvey Scout Service Center.
Please have one person responsible for handling all registration. That person will be the one contacted concerning questions about the registration and/or payments.
Campsite Matrix
Campsite availability is shown in real time for each session of camp.
Adirondacks
(capacity: 1 unit, 16 attendees)
Week 1
CIT
Week 2
Week 3
Week 4
Beard
(capacity: 1 unit, 22 attendees)
Week 1
557B MTC
12
CIT
Week 2
42G CK
7
Week 3
Week 4
6B MTC
7
Boyce
(capacity: 2 units, 38 attendees)
Week 1
5619G OP
9
CIT
Week 2

431B WNYSC
431G WNYSC
16
12
Week 3
1280B LHC
15
Week 4

482B MTC
806B MTC
8
21
Lower Drake
(capacity: 2 units, 32 attendees)
Week 1
9071B GTC
11
CIT
Week 2
217B MTC
9
Week 3
1111B LHC
2
Week 4

1103B LHC
9191G LHC
14
3
Perry
(capacity: 4 units, 46 attendees)
Week 1

76B CK
11B CD
19
6
CIT
Week 2

304B OP
59B OP
8
17
Week 3

97B CD
96B OP
23
5
Week 4

500B WNYSC
716G WNYSC
13
13
Powell
(capacity: 1 unit, 22 attendees)
Week 1
CIT
Week 2
60B WNYSC
14
Week 3
Week 4
53B MTC
19
Schell
(capacity: 2 units, 30 attendees)
Week 1
743B MTC
17
CIT
Week 2
1423B LHC
19
Week 3
Week 4

6733G MTC
733B MTC
11
11
Seton
(capacity: 2 units, 28 attendees)
Week 1
3B CK
19
CIT
Week 2

65B CK
55B CD
11
11
Week 3
38B CK
15
Week 4

220B CK
62B LEC
12
8
Shenango
(capacity: 3 units, 40 attendees)
Week 1
CIT
Week 2

111B CD
435B LHC
13
27
Week 3
Week 4
52B OP
27
Staff Site
(capacity: 1 unit, 50 attendees)
CIT
Upper Drake
(capacity: 2 units, 34 attendees)
Week 1
210B CK
13
CIT
Week 2

51 CD
51G CD
21
6
Week 3
Week 4
104G OP
12
West
(capacity: 3 units, 44 attendees)
Week 1

228B CK
836B CD
12
25
CIT
Week 2

50B CK
17B CD
11
11
Week 3
Week 4
750B FESA
19
LEGEND
No units or participants registered for campsite
Campsite is reserved but has room for additional unit(s)
Campsite has reached unit or participant limit
When & Where
Week 1Custaloga Town Scout Reservation
Sunday 06-18-2023 1:00 PM ET to
Saturday 06-24-2023 11:00 AM ET
Past
Limit One Registration Per Unit
---
CITCustaloga Town Scout Reservation
Thursday 06-22-2023 12:00 AM ET to
Saturday 08-12-2023 11:59 PM ET
Past
---
Week 2Custaloga Town Scout Reservation
Sunday 06-25-2023 1:00 PM ET to
Saturday 07-01-2023 11:00 AM ET
Past
Limit One Registration Per Unit
---
Week 3Custaloga Town Scout Reservation
Sunday 07-02-2023 1:00 PM ET to
Saturday 07-08-2023 11:00 AM ET
Past
Limit One Registration Per Unit
---
Week 4Custaloga Town Scout Reservation
Sunday 07-09-2023 1:00 PM ET to
Saturday 07-15-2023 11:00 AM ET
Past
Limit One Registration Per Unit