Event Details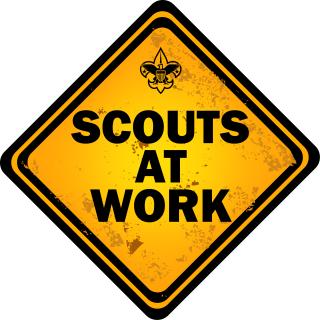 What is Scouts at Work Resident Camp?
Scouts at Work Camp is not your traditional summer camp. Our programming will be a little different. This camping experience will put a strong emphasis on physically and visually experiencing various Trades, Jobs, and Careers. It will give Scouts an opportunity to DO all the things in our program by working with professionals in that specific field. Scouts will have an opportunity to experience over 40 careers to help determine whether they would like to pursue them further. In addition, Scouts will take home skills that will save them money as they transition into adulthood. Whether it's Welding or Carpentry, Veterinary Science or Aviation, Scouts at Work Camp will have plenty for everyone. Come join us for home cooking and a truly unique experience.
Why Scouts at Work Camp?
According to the Bureau of Labor Statistics, there is a significant shortage of skilled trades workers in the U.S. By 2028, there are estimated to be over 3 million open jobs in the trades. Trades jobs are requiring increasing skill levels, utilize technology more than ever, and can be a pathway to a high-paying profession without the high cost of schooling. Trades jobs provide incredible job security and can be a pathway to owning your own business and being your own boss.
Dates/Location:
July 7-13, 2024
Camp Potomac, Oldtown, MD
Fees and Reservations
Reserve your troop's spot with a $100 non-refundable troop deposit plus $20 per Scout. These deposits roll toward the overall balance due and are not extra fees. The $20 per Scout deposit is refundable until February 15, 2024.
To prioritize youth attendees, adults are limited to a max of 4 per registration.
Reservation Timeline

Potomac District Units Only - Reserve by 06.01.2023 to lock in the lowest possible rates for camp.
All Other Units - Registration opens 06.02.2023 to reserve space.
Scouts at Work Camp Fee Schedule
Scout Fees
Deposit of $20 made by 06.01.2023
Deposit of $20 made between 06.02.2023 and 08.01.2023
Deposit of $20 made 08.02.2023 or after
Paid in Full on or before 04.01.2024
$400.00
$425.00
$450.00
$20 Scout Deposits are fully refundable up to and including 02.15.2023
Paid in Full after 04.01.2024
$425.00
$450.00
$475.00
Unit Reservation Deposit
$100
-
-
Non-Refundable
Adult Fees
$275*
$275*
$275*
One FREE adult for Every 8 registered and paid Scouts.
*Adults can receive a $50 discount for actively working with part of the program. Contact Andy.Mackert@Scouting.org to discuss.
Who Can Attend?
Any registered member of a Scouts BSA Troop, Venturing Crew, or Sea Scout Ship may participate in the program. Please note, since this camp does not happen until the summer of 2024, currently registered Webelos and Arrow of Light Scouts who will have crossed over into a Troop prior to camp will be able to register.
Even if a Scout's home unit is not planning to attend, individual Scouts may register provisionally and will participate with a group that includes required adult supervision.
Tentative Program Offerings
Because the focus of Scouts at Work Camp is to give Scouts real, hands-on experience in various trades and careers, groups will be kept small and will be instructed by professionals working in the field. The number of badges or workshops Scouts will be able to participate in during the week will be limited to help Scouts take a deep dive into their chosen programs.
Below is a list of tentatively planned badge and workshop offerings. All program is subject to change depending on instructor availability and Scout interest.
Tentative Merit Badge Offerings
American Business
American Labor
Archaeology
Automotive Maintenance
Aviation
Basketry
Chemistry
Communications
Cooking
Crime Prevention
Dentistry
Digital Technology
Electricity
Electronics
Energy
Environmental Science
Fire Safety
Fish & Wildlife Management
Forestry
Geology
Home Repair
Horsemanship
Journalism
Law
Medicine
Mining & Society
Metalwork
Pioneering
Photography
Plumbing
Programming
Radio
Railroading
Salesmanship
Search & Rescue
Surveying
Textiles
Veterinary Medicine
Welding
Non-Badge Workshops
Carpentry
Masonry
HVAC
Farm Mechanics
Small Engine Repair
Things to Note:
Campsites will be assigned after registration closes.
Meals will be provided at the camp dining hall.
NO Canvas Provided. Participants must bring their own tents unless assigned to an Adirondack site.
Scouts at Work Camp is limited to 120 attendees.
When & Where
Camp Potomac
Sunday 07-07-2024 1:00 PM ET to
Saturday 07-13-2024 10:00 AM ET