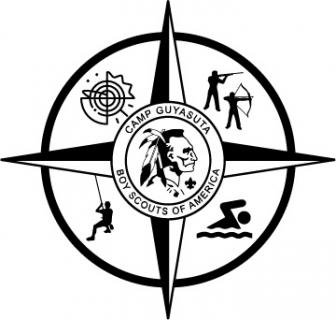 CAMP GUYASUTA STEM ADVENTURE DAY CAMP
Campers are grouped in co-ed squads with children of similar ages. With children from different areas, our campers have the chance to make lifelong friendships. Campers enjoy a full day of age appropriate activities.
Campers may attend all five weeks if interested in adventure !!!
Activities - ages 6-10 - $205.00
* Swimming
* Archery
* BB Shooting
* Low Ropes
* Climbing Wall
* Creek Hike
* Sports
* Bonfire
* Much More
Activities - ages 11-14 - $255.00
* Swimming
* Archery
* Low Ropes
* High Ropes
* Canoeing
* Zip lining
* Mountain Biking
* Bonfire
* Sports
* Creek Hike
* Much More
ALL CAMPERS MUST SEND THE BELOW COMPLETED FORM TO CAMP PRIOR TO JUNE 1, 2019
* COMPLETED MEDICAL FORM
* SIGNED CONSENT FORM
Forms can be
Faxed to : 412-782-5980
Emailed to : kim.daniher@scouting.org
Mailed to: Camp Guyasuta, 300 23rd street, Sharpsburg, PA 15215
WHAT TO BRING:
* Bag Lunch
* Swim Suit & Towel
* Sunscreen
*Tennis Shoes Everyday
* Water bottle
* Camp T-Shirt (provided) - Additional shirts can be purchased for $10.00 when registering online
PLEASE BE SURE TO PUT NAMES
ON ALL PERSONAL BELONGINGS
Kim Daniher
Conference Center Manager
kdaniher@scouting.org
412.782.2669

Flag Plaza Scout Center
1275 Bedford Ave
Pittsburgh, Pennsylvania 15219
Phone: 412-471-2927