STEM Adventure Day Camp 2024 - 25-00965214
Event Details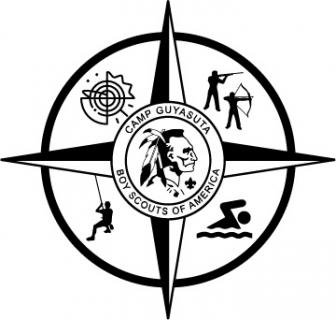 CAMP GUYASUTA STEM ADVENTURE DAY CAMP
Campers are grouped in co-ed squads with children of similar ages. With children from different areas, our campers have the chance to make lifelong friendships. Campers enjoy a full day of age-appropriate activities.
Campers may attend all eight weeks if interested in adventure !!!
Activities - ages 6-10 - $250.00
* Swimming
* Archery
* BB Shooting
* Low Ropes
* Climbing Wall
* Creek Hike
* Sports
* Much More
Activities - ages 11-14 - $300.00
* Swimming
* Archery
* Low Ropes
* High Ropes
* Kaykaing
* Zip lining
* Mountain Biking
* Sports
* Creek Hike
* Much More
ALL CAMPERS MUST SEND THE BELOW COMPLETED FORM TO CAMP PRIOR TO JUNE 1, 2024
* COMPLETED MEDICAL FORM
* SIGNED CONSENT FORM
Forms can be
Faxed to : 412-782-5980
Emailed to: kim.daniher@scouting.org
Mailed to: Camp Guyasuta, 300 23rd Street, Sharpsburg, PA 15215
Dropped off: Black mailbox on rangers front porch
WHAT TO BRING:
* Bag Lunch
* Swim Suit & Towel
* Sunscreen
*Tennis shoe Everyday
* Water bottle
* Camp T-Shirt (provided) - Additional shirts can be purchased for $10.00 when registering online
PLEASE BE SURE TO PUT THE NAMES ON ALL PERSONAL BELONGINGS
IF YOU ARE REQUESTING TO BE WITH A FRIEND EMAIL
KIM.DANIHER@SCOUTING.ORG
AS SOON AS BOTH CAMPERS ARE REGISTERED.
If attending the 4th of July week due to it being one day shorter
all campers will participate in a Horseback riding experience.
All campers for this week must also complete the horseback riding waiver.
All other weeks of horseback experience can be added for an additional fee.
You MUST register separately using the URL on the website.
When & Where
Week 1: June 3-7, 2024Camp Guyasuta
Monday 06-03-2024 9:00 AM ET to
Friday 06-07-2024 4:00 PM ET
---
Week 2: June 10-14, 2024Camp Guyasuta
Monday 06-10-2024 9:00 AM ET to
Friday 06-14-2024 4:00 PM ET
---
Week 3: June 17-21, 2024Camp Guyasuta
Monday 06-17-2024 9:00 AM ET to
Friday 06-21-2024 4:00 PM ET
---
Week 4: June 24-28, 2024Camp Guyasuta
Monday 06-24-2024 9:00 AM ET to
Friday 06-28-2024 4:00 PM ET
---
Week 5: July1-3 & 5,2024Camp Guyasuta
Monday 07-01-2024 9:00 AM ET to
Friday 07-05-2024 4:00 PM ET
---
Week 6: July 8-12, 2024Camp Guyasuta
Monday 07-08-2024 9:00 AM ET to
Friday 07-12-2024 4:00 PM ET
---
Week 7 July 15-19, 2024Camp Guyasuta
Monday 07-15-2024 9:00 AM ET to
Friday 07-19-2024 4:00 PM ET
---
Week 8 July 22-26, 2024Camp Guyasuta
Monday 07-22-2024 9:00 AM ET to
Friday 07-26-2024 4:00 PM ET
---
Week 9 July 29 - August 2, 2024Camp Guyasuta
Monday 07-29-2024 9:00 AM ET to
Friday 08-02-2024 4:00 PM ET