Event Details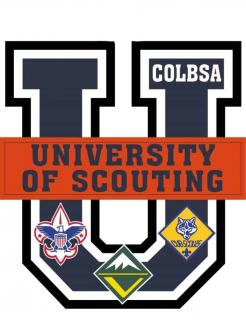 The University of Scouting is a supplemental training opportunity for all adult Scout leaders, as well as Troop, Crew and Ship youth. At UofS you can find, all in one place, the widest variety of training opportunities in all program areas (Cub Scouts, Scouts BSA, Venturing, Sea Scouting, District Operations, and Council). Whether you are new to the program or a veteran of many years, the University provides interesting and useful courses. Aside from skill-enhancement courses, we are offering a number of "Position-Required" and National level courses (the national number is in parenthesis).
For courses available download the course catalog; to avoid picking courses that overlap, download the class grid. These can be found HERE
All courses are held in-person at Valley Forge Military Academy. Coffee and tea in the morning and cookout for lunch - hot dogs, hamburgers, meatless options and others items.
When & Where
Scouting UniversityValley Forge Military Academy
Saturday 02-04-2023
8:30 AM ET to 4:00 PM ET
Past
---
Period 1Valley Forge Military Academy
Saturday 02-04-2023
9:00 AM ET to 9:45 AM ET
Past
---
Period 2Valley Forge Military Academy
Saturday 02-04-2023
10:00 AM ET to 10:45 AM ET
Past
---
Period 3Valley Forge Military Academy
Saturday 02-04-2023
11:00 AM ET to 11:45 AM ET
Past
---
Period 4Valley Forge Military Academy
Saturday 02-04-2023
12:00 PM ET to 12:45 PM ET
Past
---
Period 5Valley Forge Military Academy
Saturday 02-04-2023
1:00 PM ET to 1:45 PM ET
Past
---
Period 6Valley Forge Military Academy
Saturday 02-04-2023
2:00 PM ET to 2:45 PM ET
Past
---
Period 7Valley Forge Military Academy
Saturday 02-04-2023
3:00 PM ET to 3:45 PM ET
Past