Bucktail and Juniata Valley Virtual Journalism Merit Badge Session
Event Details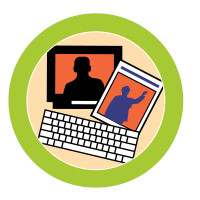 Bucktail and Juniata Valley Councils would like to thank you for your continued support during this time of uncertainty. In an effort to help support Scouts and families as our communities suspend school and group activities in response to COVID-19, our Councils are partnering to offer the Journalism Merit Badge ONLINE. This session is open to Scouts in any Council, but has been specifically marketed to those in Bucktail and Juniata Valley Councils; as such, all times posted are Eastern Daylight Time.
This merit badge session is free to our members. Pre-registration ensures that your blue cards will be updated as the session progresses. The session login information will be emailed to you with your registration confirmation. Scouts will use that link to attend the Merit Badge session on April 23.
Blue Cards will be provided digitally after the session is completed. Please remember to speak with your Scoutmaster to get approval for this merit badge before the session.
Prerequisites:
2.(a)(1) "All on the same day, read a local newspaper, a national newspaper, a newsmagazine, and (with your parent's permission) an online news source. From each source, clip, read, and compare a story about the same event. Tell your counselor how long each story is and how fair and accurate the stories are in presenting different points of view. Tell how each source handled the story differently, depending on its purpose or audience." SPECIAL NOTE FOR THIS SESSION: Scouts will need to chose news articles about the same event to discuss during the Zoom conference. (Topic is coronavirus/COVID-19). They will need to tell how the story they chose is fair and accurate and how it presents different points of view.
5. "Find out about three career opportunities in journalism. Pick one and find out the education, training, and experience required for this profession. Discuss this with your counselor, and explain why this profession might interest you."
SPECIAL NOTE FOR THIS SESSION: Scouts will need to pick a career opportunity in Journalism to read about and be prepared to discuss why the career opportunity that they chose might interest them.
When & Where
Clearfield-Lawrence Township Airport
Thursday 04-23-2020
6:00 PM ET to 9:00 PM ET
Past