The Fundamentals of Training
Event Details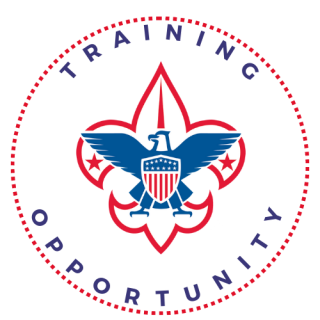 Fundamentals of Training
November 4th, 2023, 10:00 AM - 2:00 PM
Hosted at Bigham Knoll Campus
525 Bigham Knoll Dr. Jacksonville, OR 97530
Fee: $5.00 per participant
Late Fee: $10.00 per participant beginning October 17th
What are the Fundamentals of Training?
The Fundamentals of Training, is designed to help Scouters, regardless of their experience, present effective training. The course will also help those who might have trained for other organizations learn the BSA's training techniques. And, it will help freshen up the skills of current BSA trainers.
Most of the BSA's instructor-led training is designed around a variation of what educators are calling the "team-based learning model." Using small groups, team-based learning promotes learning and team development through frequent and immediate feedback by a facilitator/ instructor. It helps members learn from each other during and after the course. The team based learning approach is similar to the patrol method Scouting has used for more than a century all over the world. The patrol method has proven effective in operating a den, patrol, and crew, as well as in learning. We will use this method throughout the course.
Upon completion of The Fundamentals of Training, new trainers will be able to apply the techniques they have learned across the BSA's leadership development programs, from unitlevel youth leader training taught by youth for youth, to position-specific and supplemental training for adult leaders. Upon completion of this first part, new trainers are coached and mentored by experienced trainers as they become comfortable with and confident in their training skills.
Who Can Take This Training?
This training opportunity is open to all youth ages 14+ and adult Scouters.
***Bring Brown Bag Lunch***
Questions?
Contact Jessy Hummel - (541) 821-3094
When & Where
Fundamentals of TrainingBigham Knoll
Saturday 11-04-2023
10:00 AM PT to 2:00 AM PT
Past