Event Details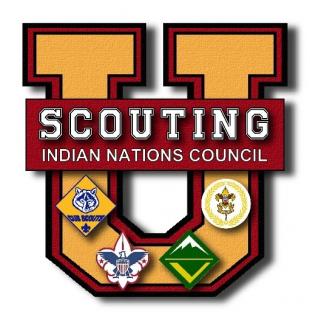 Saturday, February 8, 2020 8:30am to 4:30pm
University of Tulsa
The "University of Scouting" is a supplemental training opportunity for all adult Scout leaders. It is the only time during the year where you can find, all in one place, the widest variety of training opportunities in all program areas (Cub Scouts, Scouts USA, Venturing, Sea Scouting, Varsity Scouts, District Operations, and Council).
Whether you are new to the program or a veteran of many years, the University provides interesting courses in Cub Scouts, Scouting, leadership training for Venturing, Varsity, and Sea Scouting, as well as general topics applicable across the Scouting programs and District operations.
Cub Scouting Studies provides a wide variety of courses from working with Cub Scout-aged youth to Pack administration to planning for an outdoor program, all focused on meeting Scouting goals while having fun as a Pack or Den.
Scouting BSA Studies provides an exciting variety of Troop, Patrol and outdoor planning courses to help manage the challenges of a great Troop experience.
Venturing Studies focuses on the needs of Venture Crews in regard to Leadership and adventure. This is an interesting combination of courses for those who wish to learn more about the Venturing program with resources and information on a variety of leadership and high adventure topics.
NOTE: Due to the methods used in the Venturing program, Scouts registered as members of a Venturing Crew are permitted to register for participation in sessions in the Venturing Studies section and in other sections if noted with "(V)".
General Studies offers many courses that cover multiple areas of Scouting. Just about everything from diversity and special needs to using technology and STEM can be found in this section.
The College of Commissioners Science offers a variety of classes geared to needs of Commissioners, volunteers who work with various Units to aid those leaders in providing a quality program to their Scouts.
All these opportunities are available at the University of Scouting for learning how to better serve our young people and better work with our fellow leaders and professionals!
Online Registration – Online registration is available after Nov 8, 2019. Early bird registration will be available for a reduced fee thru Friday, January 24, 2020.
Participants and staff – Early Bird - thru Jan. 24, 2020 Fee $ 15.00
Participants and staff – General - after Jan. 24, 2020 Fee $ 20.00

Registration will close on Tuesday, Feb. 4, 2020 at 12:00 midnight.
When & Where
University of ScoutingUniversity of Tulsa
Saturday 02-08-2020 8:30 AM CT to 4:30 PM CT
Past