Webelos Aquatics Camp at ZBASE
Event Details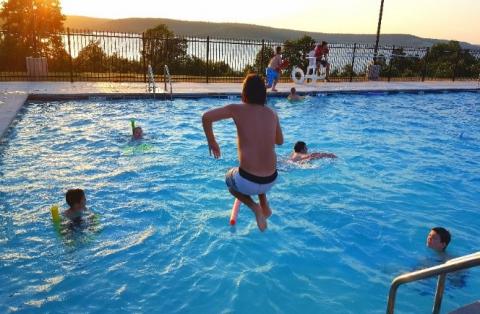 ZBASE Webelos Aquatics Camp
Location:
ZBASE High Adventure Base
Session #1
July 9th - 11th, 2021
Session #2
July 16th - 18th, 2021
Session #3
July 23rd - 25th, 2021
Fee: $100 per participant (youth and adult)
Spend a long weekend poolside! The Webelos aquatic camp is geared towards those Webelos looking for something different for their summer adventure, and we have found it!
This program is geared toward new aquatics adventure loops and fun. Pack your swim trunks and sunscreen…. you're going to need them!
Minimum leadership requirement is 1 adult for every 5 scouts. Adults will participate alongside their scouts so bring your swim gear as well and get ready to get splashed alongside your scout and have fun!
While at ZBASE, you will stay in canvas tents at Base Camp (cots provided). All meals are served in the air-conditioned Helmerich Dining Hall.
Participants must be going into 4th or 5th grade in the fall of 2021 and must not yet be registered in a Scouts, BSA Troop.
When & Where
Session 1ZBASE
Friday 07-09-2021 4:00 PM CT to
Sunday 07-11-2021 11:00 AM CT
---
Session 2ZBASE
Friday 07-16-2021 4:00 PM CT to
Sunday 07-18-2021 11:00 AM CT
---
Session 3ZBASE
Friday 07-23-2021 4:00 PM CT to
Sunday 07-25-2021 11:00 AM CT