2023 Ponca City Area Cub Scout Day Camp
Event Details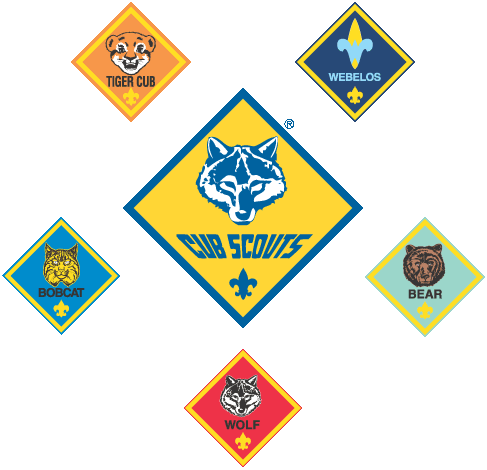 What is it?
Cub Camp is great time for Cub Scouts, presently in grades Kindergarten-4th, to have some fun shooting BBs and Arrows, playing sports, water games, making stuff, learning about the outdoors & nature, and a WHOLE LOT MORE. Remember, children do not have to have been a Cub
Scout prior to attending Cub Camp. In fact, Cub Camp is a perfect way to let potential Scouts "try on" Cub Scouting!
When & Where?
Tuesday, May 30 — Friday, June 2 Dropoff starts at 8:00 am and pickup is at 4:00 pm
Camp McFadden, east of Ponca City, OK
What to Bring?
 You will receive detailed information about the Cub Camp upon receipt of registration form.
 Campers will need to bring a lunch each day.
 Completed parts A & B of the BSA Annual Health and Medical Record are required for each Cub Camp youth participant at check-in. Download medical form from the attached forms on this registration.
 Photo release, Activity Consent and Shooting Sports Permission Forms are also required.
Registration?
Registration date by March 31st is $75. April 1, a late registration fee of $5 will be added. Scouts registering for camp on or before March 31, 2023 are guaranteed a t-shirt, patch and all program supplies.
Supervision?
Cub Camps are run solely by volunteers. We ask that each Pack provide at least one (1) adult for every five (5) participants per day of Cub Camp. New Tiger Cubs (who just completed kindergarten) must have an adult partner at camp with them AT ALL TIMES!
Volunteering?
We run solely by volunteers. Please help make this a successful camp by volunteering your time.
Shirts will only be provided to camp staff (volunteers who work every day of camp).
Required training will be provided for all Cub Camp volunteers prior to the start of your camp.
To volunteer, complete the attached Adult Application and send to Lisa Eisele (eisestes@sbcglobal.net)
More Info? Contact Lisa Eisele (580-716-0646 or eisestes@sbcglobal.net)
Please remember: pets, alcohol and firearms are not permitted on camp property.
When & Where
Camp McFadden
Tuesday 05-30-2023 8:00 AM CT to
Friday 06-02-2023 4:00 PM CT
Past