Wilderness First Aid Certification Class
Event Details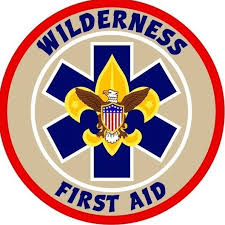 Wilderness and Remote
First Aid Certification Class
Course Length: 16 hours - attendance and participation for the full schedule is required to receive certification. This class meets the requirements established by Boy Scouts of America for participating in high adventure.
*6:00 PM -10:00 PM Friday and 9:00 AM to 7:00 PM Saturday*
All sessions are being held at the Pleasantville Fire Department in LaGrange Highlands, IL
October 6 - 7, 2023
November 3 - 4, 2023
January 19 - 20, 2024
February 23 - 24, 2024
March 15 - 16, 2024
April 5 - 6, 2024
April 26 - 27, 2024
May 17 - 18, 2024
May 31 - June 1, 2024
Length of Certification: 2 years
Who can attend: Any youth or adult scout age 14 or older registered with PTAC.
Pre-requisites: Adult CPR/AED card from any agency that was issued within 12 months of class is required. A copy of your certification will need to be emailed to the instructor prior to class. If you need Adult CPR/AED contact Cathy Prosser, prosserc@aol.com, to arrange for a blended learning class with the in-person portion to be completed during the WFA class. Additional cost of $15.00, cash at class. On line pre-work is required, about 2.5 hours.
Cost: $55.00 – Includes Red Cross Wilderness and Remote First Aid Manual and Pocket Guide.
Meal plan (Food NOT provided):
Friday: Eat dinner before you come or bring a sack dinner. Water bottle.
Saturday: Eat breakfast before you arrive. Bring lunch, dinner and snacks that do not require refrigeration or heating. Water bottle. Pack food that can be eaten as class continues. We will not take any formal breaks and will not be leaving campus.
What to wear/materials: Wear clothing suitable to spend time outside intermittently on Saturday, check the weather before you come. No special materials needed for class, instructors will provide what is needed.
Please let me know if there are any questions or concerns. Looking forward to seeing everyone!
Cathy Prosser
prosserc@aol.com
704-607-3054
American Red Cross Instructor
When & Where
January 19 - 20,2024Pleasantview Fire Department
Friday 01-19-2024 6:00 PM CT to
Saturday 01-20-2024 7:00 PM CT
---
February 23 - 24, 2024Pleasantview Fire Department
Friday 02-23-2024 6:00 PM CT to
Saturday 02-24-2024 7:00 PM CT
---
March 15 - 16, 2024Pleasantview Fire Department
Friday 03-15-2024 6:00 PM CT to
Saturday 03-16-2024 7:00 PM CT
---
April 5 - 6, 2024Pleasantview Fire Department
Friday 04-05-2024 6:00 PM CT to
Saturday 04-06-2024 7:00 PM CT
---
April 26 - 27, 2024Pleasantview Fire Department
Friday 04-26-2024 6:00 PM CT to
Saturday 04-27-2024 7:00 PM CT
---
May 17 - 18, 2024Pleasantview Fire Department
Friday 05-17-2024 6:00 PM CT to
Saturday 05-18-2024 7:00 PM CT
---
May 31 - June 1, 2024Pleasantview Fire Department
Friday 05-31-2024 6:00 PM CT to
Saturday 06-01-2024 7:00 PM CT
---
October 6 - 7, 2023Pleasantville FPD
Friday 10-06-2023 6:00 PM CT to
Saturday 10-07-2023 7:00 PM CT
Past
---
November 3 - 4, 2023Pleasantview Fire Department
Friday 11-03-2023 6:00 PM CT to
Saturday 11-04-2023 7:00 PM CT
Past