Event Details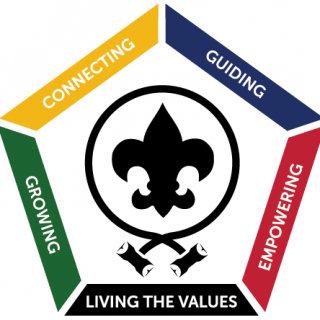 What is Wood Badge?
Wood Badge is advanced leadership training for Cub Scout, Boy Scout, and Venturing adult leaders at the unit, district, council, and professional levels. It is taught by living the experience of a Boy Scout Troop, utilizing the patrol method, over two weekends.
Wood Badge is about learning and developing Leadership skills, rather than basic Scouting skills - skills that can be used in Scouting and all facets of life.
By using a variety of learning techniques, including lectures, demonstrations, group discussions, and hands on exercises, participants will learn contemporary leadership skills and tools needed to provide the youth members of their units with the highest scouting experience.
A Wood Badge course teaches leadership skills by focusing on five key areas: Living the Values, Growing, Connecting, Guiding and Empowering.
What to Expect
This new five-day format will be held over two weekends. The first is Friday Sept 18 through Sunday Sept 20, the second is Saturday Oct 3 through Sunday Oct 4. To complete the course participants must attend both weekends.
During both weekends, participants will tent camp. During the first weekend all meals will be prepared by the staff. During the second weekend, most meals will be prepared using the patrol method, in patrol campsites. A limited number of partial scholarships are available. Scholarship application found at: https://goo.gl/forms/VsiSpocfNM6IEThf1
Or visit the PTAC Wood Badge at:
http://www.pathwaytoadventure.org/training/schedule/woodbadge
When & Where
Wood Badge (both sessions)Camp Frank S Betz
Friday 09-18-2020 7:00 AM CT to
Sunday 09-20-2020 4:00 PM CT
Past
---
Wood Badge 2nd weekendCamp Frank S Betz
Saturday 10-03-2020 7:00 AM CT to
Sunday 10-04-2020 4:00 PM CT
Past