Sea Base Council Contingent 2019
Event Details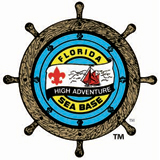 FLORIDA SEA BASE
The Florida National High Adventure Sea Base is a unique Scouting program that offers aquatics programs found nowhere else. http://www.bsaseabase.org
WHO
Individual or group registrations will be accepted. Must be a currently registered Boy Scout, Varsity Scout, Venturer, or Sea Scout.
Minimum age: The trip is coed and open to scouts. Participants must be 13 years of age prior to their arrival at Sea Base (July 21,2019). Participants who would turn 13 during their adventure are not eligible to participate (who are at least 13 years old or have completed the seventh grade). NO EXCEPTIONS.
Participants must be able to swim 100 yards (BSA swim test) and stay afloat for one minute.
WHEN
Adventures Dates - July 21, 2019 - July 28, 2019
(Please plan on 2 additional days on either end of the adventure dates for travel - 4 total). Dates will be firmed up closer to trip.
COST
The total fee for contingent participants will be approximately $1,900. The fee includes all Florida Sea Base fees, all air and ground travel, and special mementos. Spots are limited. A non-refundable $200 deposit is required to reserve a spot. A more definitive cost well be provided when we get closer and can see the airfare prices and hotels.
Participants will receive additional information throughout 2018 and early 2019 related to travel arrangements, program opportunities, and trip preparations. The Lake Erie Council reserves the right to add qualified participants to all crews up to the maximum registration limit.
Each participant must complete the required health forms for the Florida Sea Base Contingent trip.
Full units or individual scouts are welcome.
** Every Sea Base participant, youth and adult, must complete the BSA Swim Test in a strong manner prior to arrival.**
CORAL REEF SAILING ADVENTURE
Your home for a week will be on a large sailing vessel over 40 feet long. During the adventure, you will be sailing the Florida Keys and have the opportunity to snorkel some of the most beautiful reefs in the Keys and part of the Florida Keys National Marine Sanctuary.
You will also have the opportunity to study astronomy, navigation, fish identification, and coral reef ecology.
So join us for the Coral Reef Sailing Adventure, and sharpen your navigational skills and enjoy snorkeling and fishing all in one package. THIS IS A SIX-NIGHT, SEVEN-DAY ADVENTURE.
When & Where
Coral Reef Crew 1Sea Base
Friday 07-19-2019 12:00 AM ET to
Tuesday 07-30-2019 11:59 PM ET
Past
---
Coral Reef Crew 2Sea Base
Friday 07-19-2019 12:00 AM ET to
Tuesday 07-30-2019 11:59 PM ET
Past
---
Scuba Adventure CrewSea Base
Friday 07-19-2019 12:00 AM ET to
Tuesday 07-30-2019 11:59 PM ET
Past