Scout's Own Maple Syrup Kick-off & Pancake Supper
Event Details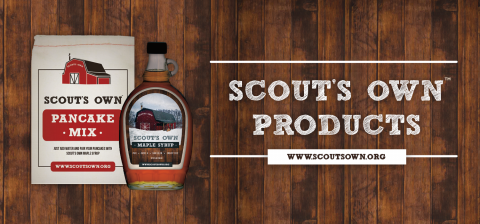 Scout's Own Maple Syrup Kick-off
Hey Scouters!

I'm Sappy, your friendly, neighborhood Maple Leaf. Did you know that the Lake Erie Council harvests sap from over 7,000 maple trees at Beaumont Scout Reservation? Trees just like the one I used to call home. This sap is then processed locally to create Scout's Own Maple Syrup! A delicious product that can make an enormous difference in the lives of your Scouts.

We're excited to kick-off our third annual Scout's Own Maple Syrup program in 2020. This fundraiser is an amazing opportunity for your Scouts to fund their summer adventures.

Last year, $130,000 went back to Scouting through the first ever Scout's Own Maple Syrup program. This year, we've expanded our product line to raise even more funds for the Scouts of Northeast Ohio.

We invite you meet me in person and learn more about this year's sale at one of four information sessions and pancake supper kick-offs..

Yours in Scouting,

Sappy the Maple Leaf
Lake Erie Council
Scouts' Own Product Specialist

When & Where
Information Meeting #1Bay United Methodist Church
Tuesday 01-28-2020 6:30 PM ET to 7:30 PM ET
Past
---
Information Session #2Firelands Scout Reservation (Camp Avery Hand)
Thursday 01-30-2020 6:30 PM ET to 7:30 PM ET
Past
---
Information Session #3Lake Erie Council Unit Service Center
Saturday 02-01-2020 10:00 AM ET to 11:00 AM ET
Past
---
Information Session #4Camp Stigwandish
Saturday 02-01-2020 10:00 AM ET to 11:00 AM ET
Past
---
Information Meeting #5Lake Erie Council Unit Service Center
Monday 02-03-2020 6:30 PM ET to 7:30 PM ET
Past