SM Basic Training + BALOO
Event Details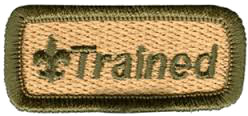 Scoutmaster Basic Training + BALOO + Venturing Advisors
Includes Scoutmaster Basic Training (S24+S11) & Basic Adult Leader Outdoor Orientation (BALOO C32) & Venturing Leader-Specific (P21)
LEAD as Scoutmaster/Assistant Scoutmaster in a SCOUT-LED troop. PLAN & ORGANIZE the troop's program. SIMPLIFY & SUCCEED with paperwork & finances. PARTNER with troop committee & other resources. TEACH ALL of the OUTDOOR Scout skills required to advance. Hands-on instruction & experience using EDGE method in patrols. DELIVER the full Scouting PROGRAM to both all-girl and all-boy units. REQUIRED for all direct contact leaders (Scoutmaster, Assistant Scoutmasters) -- ANY registered leader of outdoor events must take this course.
---
This course INTEGRATES Scoutmaster Position-Specific (S24) with Introduction to Outdoor Leader Skills (S11). It is a hands-on, outdoor learning experience that places the adult leader in the position of a Scout on a weekend campout. Participants will develop a lived appreciation of the challenges faced by a youth learning to lead. This demonstrates numerous options in designing a successful Scouting program for any unit.
When Scoutmaster Position-Specific training and Introduction to Outdoor Leader Skills (IOLS) have both been completed, new Scoutmasters will have the tools needed to begin an effective Scouting BSA program.
Cub Scout leaders who attend this course will also receive credit for Basic Adult Outdoor Orientation (BALOO C32). Venturing Leader-Specific (P21) for Advisors.
---
Youth Protection Training is a prerequisite for this course.
Please bring the following to the class: Scout uniform, outdoor clothing & footwear, tent, sleeping gear, mess kit, etc. (Detailed list of what to bring will be sent via e-mail upon registration for course). Course textbook = Boy Scout Handbook, 13th ed. 2016 (hard copy or electronic version). Please bring a current medical form.
All food, facilities & course materials are included in the course fee.
NOTE: Your completed registration will be acknowledged by automatic email. But … you are not ACCEPTED into this course until you have RESPONDED to a personal email from the Course Director.
Contact
Patrick O'Leary
Team Leader - Scouts BSA Leader Development Team
phobsa@att.net
440-846-9665

Phil Williams
Director of Camping Services
Philip.Williams@scouting.org

Lake Erie Council Unit Service Center
2241 Woodland Ave
Cleveland, Ohio 44115
Phone: (216) 861-6060

When & Where
Fall 2019 - BeaumontBeaumont Scout Reservation
Friday 09-13-2019 6:00 PM ET to
Sunday 09-15-2019 12:00 PM ET
---
Fall 2019 - TBD (FSR or BSR)To Be Decided
Friday 10-11-2019 6:00 PM ET to
Sunday 10-13-2019 12:00 PM ET
---
Spring 2020 - FirelandsFirelands Scout Reservation (Camp Avery Hand)
Friday 04-03-2020 6:00 PM ET to
Sunday 04-05-2020 12:00 PM ET
---
Fall 2020 - BeaumontBeaumont Scout Reservation
Friday 09-11-2020 6:00 PM ET to
Sunday 09-13-2020 12:00 PM ET
---
Fal 2020 - TBD (FSR or BSR)To Be Decided
Friday 10-09-2020 6:00 PM ET to
Sunday 10-11-2020 12:00 PM ET
---
Spring 2019 - FirelandsFirelands Scout Reservation (Camp Avery Hand)
Friday 04-12-2019 6:00 PM ET to
Sunday 04-14-2019 12:00 PM ET
Past