Event Details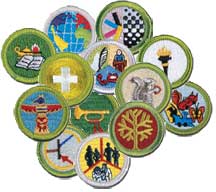 Lake Erie Council is proud to offer Merit Badge Weekends at each of our three camp properties throughout the year. These weekends feature Merit Badges that fit particularly well with the facilities and structure of camp.
You will have the opportunity to earn at least one Merit Badge at each event. Some badges are paired with others, though most of them are one-badge programs. Price depends on materials, equipment and facilities for each badge (see below for pricing).
Scouts are encouraged to sign up with their unit and make a weekend of camping out of the event, though signing up just for the Saturday program without others from your Unit is also an option.
Spring 2018
Beaumont, March 24
Citizenship in the World ($20)
Energy ($20)
Family Life & Fingerprinting ($25)
Shotgun Shooting ($40)
Welding ($25)
Wood Carving ($20)
Stigwandish, April 21
Archery ($25)
First Aid ($25)
Indian Lore & Textile ($30)
Pioneering ($20)
Rifle Shooting ($30)
Wilderness Survival ($20)
Beaumont, May 12
ATVs ($40)
Archery ($25)
Climbing ($25)
Cooking ($40)
Environmental Science ($25)
Fishing ($25)
Rifle Shooting ($30)
Welding ($25)
---
Fall 2018
Beaumont, September 8
ATVs ($40)
Archery ($25)
First Aid ($25)
Rowing ($20)
Metalwork ($25)
Personal Fitness ($20)
Rifle Shooting ($30)
Firelands, October 6
Archery ($25)
Climbing ($25)
Communication ($20)
Disabilities Awareness ($20)
Environmental Science ($25)
Fire Safety (morning only, $20)
Fishing ($25)
Music (morning only, $20)
Personal Fitness (morning only, $20)
Pioneering ($20)
Rifle Shooting ($30)
Shotgun Shooting ($40)
Wilderness Survival ($20)
Beaumont, November 10
ATVs ($40)
Climbing ($25)
Communication ($20)
Indian Lore & Textile ($25)
Journalism ($20)
Photography ($20)
Public Speaking ($20)
Shotgun ($40)
Weather ($20)
Welding ($25)
When & Where
Beaumont, March 24Beaumont Scout Reservation
Saturday 03-24-2018 8:30 AM ET to 5:00 PM ET
Past
---
Stigwandish, April 21Camp Stigwandish
Saturday 04-21-2018 8:30 AM ET to 5:00 PM ET
Past
---
Beaumont, May 12Beaumont Scout Reservation
Saturday 05-12-2018 8:30 AM ET to 5:00 PM ET
Past
---
Beaumont, September 8Beaumont Scout Reservation
Saturday 09-08-2018 8:30 AM ET to 5:00 PM ET
Past
---
Firelands, October 6Firelands Scout Reservation (Camp Wyandot)
Saturday 10-06-2018 8:30 AM ET to 5:00 PM ET
Past
---
Beaumont, November 10Beaumont Scout Reservation
Saturday 11-10-2018 8:30 AM ET to 5:00 PM ET
Past