COPE/Climbing Level 1 Training
Event Details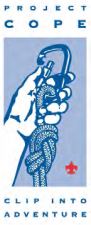 Lake Erie Council provides in-depth training for individuals wanting to learn more about COPE and Climbing. With these certifications, you will be able to assist with Council-sponsored and Unit events with appropriately-trained instructors at the artificial towers and COPE courses at our camp properties.
Note that you will need to be familiarized with the Beaumont Climbing Tower and COPE Course before assisting with program there.
The Level I training weekend will cover material from COPE & Climbing Foundations, COPE Level 1, and Climbing Level 1 curriculum.
To be a COPE or Climbing Instructor-in-Training you must be at least 16 years old and complete the COPE & Climbing Foundations, and the COPE or Climbing Specific training.
To be a Level I in COPE or Climbing, you must be at least 18 years old and complete the same requirements.
Note that at all climbing, belaying, and rappelling exercises and activities, someone with certification in First Aid/CPR/AED from the American Red Cross (or equivalent) must be present (Take our course!)
---
Stay tuned for more information!
---
Prerequisites:
---
Please bring:
Sleeping supplies
Toiletries
Personal climbing equipment (must be approved by the course director)
Personal snacks
Weather-appropriate clothing
---
Event Cost:
(covers food and lodging at Firelands for the weekend)
Early Bird Price: $20 (if paid before April 8)
Regular Price: $25
Late Price: $30 (if paid after April 21)
Registration closes on April 21 at 11:59pm
When & Where
Spring 2018Firelands Scout Reservation (Camp Wyandot)
Friday 04-26-2019 6:00 PM ET to
Sunday 04-28-2019 3:00 PM ET
Past