Northern Lights Alumni Association Dues
Event Details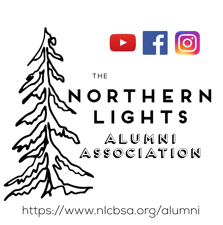 Membership
The purpose of The Association: to preserve and promote the
camping opportunities at our council camps; to inform the
Membership of the camps current progress; to provide support for
the current operations with our time; talents, and assets; and to
organize gatherings of the association. Membership is open to all
past camp staff members, campers, or anyone with interest in
the camps and the council.
Being a member of the Association means you will receive the Aurora our newsletters from the Association to keep up with other fellow members and the camp. The money raised by the Association goes to projects like the trailer for the Ranger, high-speed internet connection at camp, human foosball at the Cub Camp, basketball court, and funding & building Cabin 3. We are currently raising money for the Steve Werpy Staff Scholarship Fund, that helps by retaining camp staff. The History Center at Camp Wilderness also benefits from our members in helping with staffing, maintaining the center, and funding.
Our goal is to maintain the spirit, traditions, and memories of the Northern Lights Council Camps, both past and present; to provide a means for alumni of the Northern Lights Council Camps to maintain affiliation with each other and with the Camps, and to contribute to the continued maintenance and development of the Camp's physical and human resources.
Association dues
$20.00 per year for Annual Membership
$200.00 (one-time) Life Membership (payable in three installments). If you choose this Membership when you register, you will need to select Pay in Full or Bill Annually.
The Association's annual dues begin July 4 and expire July 4 of the
following year. Annual memberships starting after January 4 will
not expire on July 4 of that year but the following year on July 4.
When & Where
Alumni Association DuesCenter for Scouting
Sunday 12-31-2023
12:00 AM CT to 11:59 PM CT