Wehinahpay Mountain Camp: Summer Adventure 2022
Event Details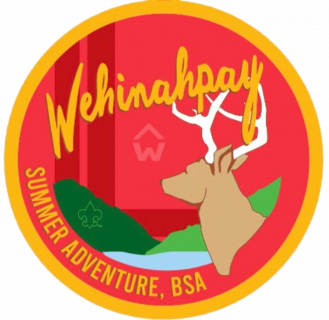 Wehinahpay Mountain Camp
in Sacramento, New Mexico hosted by the Conquistador Council
Wehinahpay Mountain Camp is designed to facilitate unique high mountain experiences for all ages.
​Situated over 8,500 feet in elevation, Wehinahpay boasts an array of accessible programs ranging from relaxing to exciting to challenging.​
While our property is an excellent venue for Troop outings, training courses, and getaways; the highlight of our calendar is our Summer Camp Program. Whether you love to fish, go camping, or just sit in the shade and enjoy the mountain breeze - this is the place for you!
​
When & Where
Session 1Wehinahpay Mountain Camp
Sunday 06-05-2022 1:00 PM MT to
Saturday 06-11-2022 9:00 AM MT
Past
---
Session 2Wehinahpay Mountain Camp
Sunday 06-12-2022 3:00 PM MT to
Saturday 06-18-2022 12:00 PM MT
Past
---
session 3Wehinahpay Mountain Camp
Sunday 06-19-2022 1:00 PM MT to
Saturday 06-25-2022 9:00 AM MT
Past
---
session 4Wehinahpay Mountain Camp
Sunday 06-26-2022 1:00 PM MT to
Saturday 07-02-2022 9:00 AM MT
Past
---
session 5Wehinahpay Mountain Camp
Sunday 07-03-2022 1:00 PM MT to
Saturday 07-09-2022 9:00 AM MT
Past
---
session 6Wehinahpay Mountain Camp
Sunday 07-10-2022 1:00 PM MT to
Saturday 07-16-2022 9:00 AM MT
Past