Event Details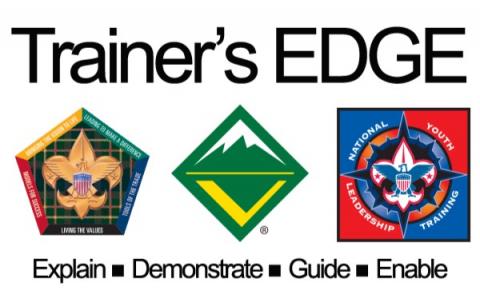 Date: Saturday January 26, 2019 8am-5pm &
Tuesday January 29, 2019 5pm-9pm
Participants must attend BOTH sessions.
Location: Day Automation 7931 Rae Blvd Victor NY 14564
Cost: $10.00 per person if you Register by Jan 13, 2019
The purpose of the Trainer's EDGE course is to provide and help develop the platform skills of a trainer.
Only practice can polish these skills, but this course focuses on training behaviors and resources while offering hands-on experience in methods and media.
Trainer's EDGE is recommended for:
Wood Badge & NYLT staff (Required)
Unit and District Trainers
Cubmasters, Scoutmasters, and Venturing Advisors
Exploring and Venturing Youth Leaders
And others interested in improving their training and presentation skills.
Attendance is expected both days to receive credit for this training!
Presenters of all levels and skills are welcome and expected to attend. This training does not have an expiration date; practice makes for a more knowledgeable and experienced trainer. Participants will have the opportunity to be in front of a small group, which will offer feedback that will help improve skills as a trainer.
Likewise, each person will provide the gift of feedback for other presenters in a positive, helpful way. Be prepared to come present a 7-10 minute presentation on any Scouting material (including Cub Scouts, Boy Scouts, Venturing and Exploring) on the evening of January 29th. More details in the first sessions.
Youth and adults will be attending and staffing this course, unless otherwise noted.
Please wear your full field uniform for this training event.
All participants must bring own lunch. Coffee and snacks will be provided
Presenting is important, but a good trainer is more than a good presenter. A good trainer imparts knowledge, attitudes, and behaviors in a classroom
When & Where
Trainer's EdgeDay Automation
Saturday 01-26-2019 8:30 AM ET to 4:00 PM ET
Past
---
Trainers EdgeDay Automation
Tuesday 01-29-2019 5:00 PM ET to 9:00 PM ET
Past