2023 Camp Cutler Maple Sugar Weekend
Event Details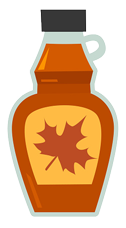 Save the Date!
March 25, 2023
Camp Cutler Maple Sugar Weekend
March brings warmer weather and our Maple Sugar weekend
(3/25/2023). While camping, or just for the day, come see a
maple sugar demonstration (Saturday 9 AM – 3 PM) from tapping
trees, collecting sap, boiling sap down to maple syrup and some
sampling of the finished product. Don't forget camping and all
associated activities are available that weekend and every weekend.
Our Maple Sugar demonstration will be at the Walmsley
Sawyer Lodge.
While at camp you can participate in activities such as:
• Archery for campers –
• Weather dependent
• Sling Shots for campers –
• Weather dependent
• Fishing
• Hiking
• GAGA ball
• Check out the Seneca Waterways Council for updates.
$5 registration fee for scouts. Weekend campers can register
to camp at https://campreservation.com/397/Camps/343
• Camping is on your own and is done from Friday night to Saturday
or Saturday night to Sunday.
• See you at Camp! J. Warren Cutler Scout Reservation
7131 Gulick Road, Naples NY
More information or questions contact: Dan DiGiacomandrea at
djd71355@gmail.com
When & Where
2023 - Camp Cutler Maple Sugar WeekendJ. Warren Cutler Scout Reservation
Saturday 03-25-2023 9:00 AM ET to 3:00 PM ET