Event Details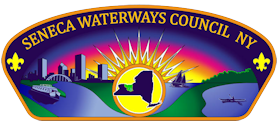 Be Prepared! The Seneca Waterways Council Kickoff returns on August 114, 2022. This annual event sees Scouting leaders from units throughout the council coming together to receive valuable information and tools to get the next Scouting Year kicked off. We invite every unit to participate and to have as many members of your leadership team present.
We will see the return of the Grand Midway featuring booths from council committee and programs including Camping and Outdoor Programs, Campmasters Popcorn, Whitley's Nuts, Leader Training, Order of the Arrow, the Scout Shop and more! The Midway will operate before and after leader sessions.
Interactive sessions for all leaders in attendance will focus on:
Unit Growth Planning – how to organize and executive a succession Joining Event Campaign supported by peer-to-peer recruitment.
Unit Product Sales – how to organize and kickoff your sale to deliver the best results to fund your program.
Units will also be able to pick up membership growth materials and resources. This is one event you don't want to miss! Come and get prepared for the next incredible year of Scouting!
When & Where
Edgewood Community Church
Sunday 08-14-2022 12:30 PM ET to 4:00 PM ET