Cub Scout Elective Days - Fall 2019
Event Details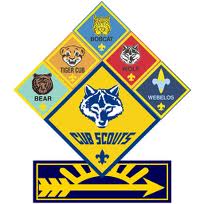 Cub Scout Electives Days are held monthly at the Seneca Waterways Council Service Center in Rochester. Each session is lead by an experience Cub Scout leader, and it covers different electives.
Here is what you need to know:
Cubs must attend entire session to earn Adventure
Only $15 per session or $30 for both
$30 fee for both classes includes pizza lunch for Cubs,
Each Cub must have a parent in attendance
Class size limited to 15
No registrations will be accepted after the due date, and No walk-ins will be accepted.
No refunds.
For more information contact Class Instructor Judy Williams @ judyw034@yahoo.com
September 14, 2019
Tiger Elective Adventure - Theater and/or Stories in Shapes
*Stories in Shapes runs from 9 AM to 11:30 AM
Tiger Theater runs from Noon to 2:30 PM
Deadline for registration is September 7
September 21, 2019
Wolf Elective Event - Paws on the path & Finding your Way
These Adventures run back to back from 9 AM to 2:30 PM.
Cubs must attend entire session to earn Adventures
Only $30 per Cub Scout
Each Cub must have a parent in attendance
Bring a brown bag lunch and water bottle
Proper footwear is required. No open toed shoes
This will be held at Camp Cutler in Naples, NY
Deadline for registration is September 14
October 5, 2019:
Bear Elective Event - Beat of the Drum and Super Science
Beat of the Drum runs from 9 AM to 11:30 AM
Super Science runs from Noon to 2:30 PM
Deadline for registration is September 29
October 19, 2019:
Webelos/AOL Elective Event - Webelos Walkabout and Into the Woods
Classes start at 9 AM and run until 2:30 PM
Cubs must attend entire session to earn Adventures
Only $30 per Cub Scout
Each Cub must have a parent in attendance
Bring a brown bag lunch and water bottle
Proper footwear is required. No open toed shoes
This will be held at Camp Cutler in Naples, NY
Deadline for registration is October 12
November 9, 2019
Wolf Elective Event - Code of the Wolf and Digging in the Past
Code of the Wolf runs from 9 AM to 11:30 AM
Digging in the Past runs from Noon to 2:30 PM
Deadline for registration is November 2
December 14, 2019
Bear Elective Event - Roaring Laughter and Super Science Elective Adventures
Roaring Laughter runs from 9 AM to 11:30 AM
Super Science runs from Noon to 2:30 PM
Deadline for registration is December 7
When & Where
Bear Electives - Beat of Drum & Super ScienceBurt & Chuck August Scout Service Center
Saturday 10-05-2019 9:00 AM ET to 2:30 PM ET
Past
---
Webelos/AOL Elective Event - Walkabout & Into the WoodsJ. Warren Cutler Scout Reservation
Saturday 10-19-2019 9:00 AM ET to 2:30 PM ET
Past
---
Wolf Elective - Code of Wolf & Digging in PastBurt & Chuck August Scout Service Center
Saturday 11-09-2019 9:00 AM ET to 2:30 PM ET
Past
---
Bear Elective - Roaring laughter & Super ScienceBurt & Chuck August Scout Service Center
Saturday 12-14-2019 9:00 AM ET to 2:30 PM ET
Past