Event Details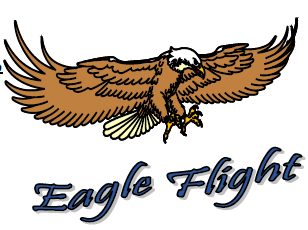 Spend the week of August 7th - August 13th, 2022 . . .
at J. Warren Cutler Scout Reservation working towards your Eagle Scout Rank!
Eagle Flight Week is for Scouts serious about progressing along their Trail-to-Eagle. Eagle Flight is not a typical BSA summer camp program. You will be engaged in merit badges and other programs all week. Over 50 adult volunteers with extensive merit badges and Scouting experience are available with camp staff to support the Scouts that attend. Each evening you will participate in programs that include an inspirational movie or talk, an ice cream social, a night hike, shooting sports or Scouting jeopardy. There will be some downtime, but not much – did we say Eagle Flight was for serious Scouts? You will be very busy and have an excessive amount of fun!
Participants must be at least 14 years old and First Class by the first day of Eagle Flight Week. (Note: The program begins in February for Scouts preparing for their 90-day Eagle-Required Merit Badges.)
Prerequisites Meetings
Eagle Flight Week actually begins with monthly meetings in Rochester starting in February. In subsequent monthly meetings, Scouts meet their assigned Troop Scoutmaster, select all merit badges and continue to meet their merit badge counselors. You cannot achieve the rank of Eagle with partials and this program helps you finish those as well. We ask that all the merit badge prerequisites be completed before arriving at camp with the appropriate evidence, then the merit badge is completed while at camp. If not, it can be completed after camp. Eagle Flight staff are available anytime and not just at camp.
Eagle Flight Meeting Dates: 3rd Thursday of each month:
2/17 7pm Zoom General Information
3/6 4pm SWC 90-day badge guidance and information
3/17 7pm SWC 90-day badge guidance and information
4/21 7pm SWC General Session and Information
5/19 7pm SWC Merit Badge Selections Due, detail prep for camp
6/30 7pm SWC Schedules delivered and final prep for camp
Time: 7:00 pm, Most meetings end at 8:30 pm.
Location: Seneca Waterways Council Office Conference Rooms
Organization
During the week at camp, Scouts are divided into troops. A SPL, ASPL and patrol leaders are elected for each troop. They will run the troop during the week, along with adult leadership from experienced Eagle Scouts and Scouters.
Advancement
Eagle Flight Week offers all Eagle-required merit badges, as well as dozens of other choices. You may work on as many as time permits. Each Scout will completely fill each day with merit badge sessions.
Once you decide which merit badges to take, obtain a current copy of each merit badge pamphlet. Be sure you read the merit badge requirements and complete any pre-camp prerequisites. Pre-camp prerequisites are available for download from the link on listed below under the Forms header at that link (right side bar on your desktop). You'll need to bring evidence of completing all pre-camp prerequisites (a note from your Scoutmaster, hard copies, reports, and etc.)
If for any reason, you don't complete all the requirements for a merit badge during your week at camp, you will receive a partial for that merit badge.
Arrangements can be made for additional merit badges not listed in the camp program guide. If you have an interest in a specific merit badge and we have the counselor and/or resources available, we will work with you to try to meet your interest. Please talk to the program director prior to your arrival at camp.
Registration
Registration for Eagle Flight is a quick two-step process. Registration information is collected and paid for online. Additional information is required by the camp on a paper form. This form should be completed with the appropriate parent/guardian signature and the unit leader recommendation, then sent to the Scout Service Center. Both steps in the process must be completed in order to be considered registered. Initial deposits for Eagle Flight are accepted online. Additional payments can be made online or by making a payment to the Scout Service Center Customer Service Desk.
Before you Begin Registration Please Note:
All individuals over the age of 18 attending summer camp must be a registered member of the Boy Scouts of America and have a valid Youth Protection Training certificate and member ID number. Member ID numbers are required for all adult participants. For more information on this National Council mandate please visit: Camp Youth Protection and Registration Requirement
Member ID numbers are required for all Youth and Adult participants participating in Seneca Waterways Council programs. Please have your BSA Member ID number available when completing the registration process.
Cost
The regular registration fee of $475 for the program if paid by April 10, 2022. Late registration is $525 for payments made in full after April 11, 2022.
A $25 rebate will be provided to a family who's Scout attends a session of camp at a Seneca Waterways Council camp during the same year as their Eagle Flight attendance. Families must request the rebate using an online request form available after summer camps close in August.
How to Register
Registration for Eagle Flight is a two-step process:
You must register and place a deposit online through the council website at the register link below. A $100 deposit is required at the time of registration online.
Send in the paper form as it contains additional information that is not recorded online.
Additional payments can be made online through your online account at this council website or through the Scout Service Center. Payments made at the Scout Service Center will be credited to your online account within seven days.
For more information about Eagle Flight and pre-camp prerequisites, please look to the folders in your right side bar.
When & Where
J Warren Cutler Scout Reservation
Sunday 08-07-2022 12:00 PM ET to
Saturday 08-13-2022 1:00 PM ET
Past