Event Details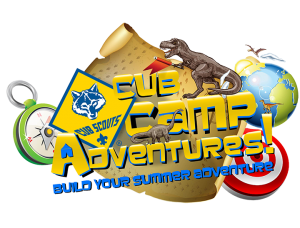 Cub Scout Adventure Camp (CSAC)
at J. Warren Cutler Scout Reservation
The Adventure takes place at the J. Warren Cutler Scout Reservation located near Naples, New York in the beautiful Bristol Hills. Cub Scouts live in one of five themed villages for three days and two nights. While there they participate in camp-wide activities such as boating and fishing, swimming, nature, archery, and shooting sports as well as themed village programs.

Cub Scout Adventure Camp Sessions
Cub Adventure Camp is scheduled with our parents in mind. It can be difficult to take time off from work to attend camp with your Scout during the summer but most will agree it's worth it. Our schedule is family and work friendly.
Camp is fun when you attend as a Parent & Scout pair but it's MUCH more fun when you attend as a Den or as a Pack. If your Pack or Den is attending as a group sign up together, if not, sign up on your own. Cub Scouts go camping, don't miss out on the fun this summer.
HOW MUCH:
Regular rate - $225
Early Bird Rate - $195
Cub Scout Leaders please take note of the following dates:
1) Site Deposits $100 are due at registration
2) Camp Fees:
Camper Deposits must be paid in full by March 4, 2020
Early Bird Fee must be paid in full by April 1, 2020
Scouts who missed Early Bird deadline must have fees paid in full by May 13, 2020
Youth who have joined scouting in the Spring (Feb-June) are Eligible for early bird rates. Be sure to select "New Scout in Spring".
Special Programs and Sessions

Parent-Friendly Session
It can be difficult for a Cub Scout to attend camp with one parent when there are non-Scouts who might be left at home. Have no fear! Family Session is here!

Webelos Week / Arrow of Light Week (Webelos / AOL Only)
This 6-day program is the ultimate experience for older Scouts. You'll learn essential survival and pioneering skills that you can take with you to a Scouts BSA troop.
Your group will participate in outpost trips to some of the most beautiful areas of camp. You'll build your own campsite and the fire on which you'll cook your meals. As part of your outpost adventure, you'll also make the camp a better place by helping with a conservation project to help preserve the environment. Arrow of Light Week prepares you for Scouts by familiarizing you with the Scouts BSA program.

Cub Scout Adventure Camp Villages
Village
Description
Medieval Castle

Designed for Tigers but open to all ages

Designed for new Tiger scouts entering the first grade in September. Walk over a drawbridge and back into Medieval times. As a "Good Knight" or princess, you will get to create your own tunic or tiara which you will need to participate in the royal Tournament. There you will test your strength, courage, and teamwork skills by designing your own Tiger Knight obstacle course. You can also learn about the world around you as a "Tiger in the Wild".

High Seas Pirate Ships

Designed for Wolves but open to all ages

Ahoy mates and welcome to the High Seas! Grab your fishing pole and your bathing suit because you are going on an adventure with your captain and first mate. Designed for Wolves who are entering the second grade in September. You will battle each other from ship to ship in a sponge war, use a map and compass to "Find your Way" to the missing treasure, and enjoy the pirate-themed fun all session long.

Native American Village

Designed for Bears but open to all ages

Welcome to life before the settlers came to America. With a longhouse and a totem pole, you will hear the "Beat of the Drum" and feel as though you have stepped back in time. Designed for Bear scouts entering the third grade. While in this village you will create different crafts, such as dream catchers and choker necklaces. You will also learn about the beliefs behind the crafts. A game of lacrosse will sharpen your Native American skills and you will leave with a new appreciation of the Native American culture.

Pioneer Fort

Designed for Webelos

Howdy partner! Get ready for life in the 1800's when you step inside Fort Radcliff to meet your sheriff. Designed for Webelos entering the fourth grade in September, you will spend your days as a settler, hiking throughout camp and making your own homemade butter. You will also sharpen your aquatics skills and head "Into the Woods" to learn about the plants and animals in the world around us.
Mountain Man Brigade

For Arrow of Light Scouts only

Welcome to the rugged life on the frontier. Learn about and try building your own campsite improvement with the other seven people in your brigade. Designed for Arrow of Light Scouts entering the fifth grade in September you will sharpen your fire building skills and cook your own dinner over a fire you have created! And don't forget about our awesome Camp Cutler Mud Run. To round out this adventure you will learn all about the amazing programs and adventures that await you as a Boy Scout.

J. Warren Cutler Grand Slam Award
Earn the J. Warren Cutler Grand Slam Award and earn a $75 discount on a youth registration fee for Cub Scout Adventure Camp. Scouts that attend all three spring events (Council Fishing Derby, Covered Wagon Derby, and Me & my Shadow) will receive a $75 discount on their youth registration fee for Cub Scout Adventure Camp during the summer. Awards are non-transferable and must be used during the summer of 2020. A grand slam award patch will be presented to the eligible Scouts during their session at Cub Scout Adventure Camp. All entries for the award need to email camping@senecawaterways.org.
Camping Kick-Off
January 26, 2020 3:00 pm - 6:00 PM

Scout Service Center
2320 Brighton Henrietta TL Rd
Rochester, NY
Campsite Matrix
High Seas
(capacity: 99 units, 48 attendees)
Session Eigh
Session Nine
Medieval Castle
(capacity: 99 units, 44 attendees)
Session Eigh
Session Nine
Mountain Man
(capacity: 99 units, 60 attendees)
Session Eigh
Session Nine
Native American Village
(capacity: 99 units, 40 attendees)
Session Eigh
Session Nine
Pioneer Fort
(capacity: 99 units, 44 attendees)
Session Eigh
Session Nine
High Seas
(capacity: 99 units, 48 attendees)
Session One
Session Two
Session Thre
Session Four
Session Five
Session Six
Session Seve
Medieval Castle
(capacity: 99 units, 44 attendees)
Session One
Session Two
Session Thre
Session Four
Session Five
Session Six
Session Seve
Pioneer Fort
(capacity: 99 units, 44 attendees)
Session One
Session Two
Session Thre
Session Four
Session Five
Session Six
Session Seve
Native American Village
(capacity: 99 units, 40 attendees)
Session One
Session Two
Session Thre
Session Four
Session Five
Session Six
Session Seve
Mountain Man
(capacity: 99 units, 60 attendees)
Session One
Session Two
Session Thre
Session Four
Session Five
Webelos / Ar
LEGEND
No units or participants registered for campsite
Campsite is reserved but has room for additional unit(s)
Campsite has reached unit or participant limit
When & Where
Session OneJ Warren Cutler Scout Reservation
Thursday 07-09-2020 12:00 PM ET to
Saturday 07-11-2020 6:00 PM ET
Past
---
Session TwoJ Warren Cutler Scout Reservation
Sunday 07-12-2020 12:00 PM ET to
Tuesday 07-14-2020 6:00 PM ET
Past
---
Session ThreeJ Warren Cutler Scout Reservation
Thursday 07-16-2020 12:00 PM ET to
Saturday 07-18-2020 6:00 PM ET
Past
---
Session FourJ Warren Cutler Scout Reservation
Sunday 07-19-2020 12:00 PM ET to
Tuesday 07-21-2020 6:00 PM ET
Past
---
Session FiveJ Warren Cutler Scout Reservation
Thursday 07-23-2020 12:00 PM ET to
Saturday 07-25-2020 6:00 PM ET
Past
---
Webelos / Arrow of Light WeekJ Warren Cutler Scout Reservation
Thursday 07-23-2020 12:00 PM ET to
Tuesday 07-28-2020 6:00 PM ET
Past
---
Session SixJ Warren Cutler Scout Reservation
Sunday 07-26-2020 12:00 PM ET to
Tuesday 07-28-2020 6:00 PM ET
Past
---
Session SevenJ Warren Cutler Scout Reservation
Thursday 07-30-2020 12:00 PM ET to
Saturday 08-01-2020 6:00 PM ET
Past
---
Session EightJ Warren Cutler Scout Reservation
Sunday 08-02-2020 12:00 PM ET to
Tuesday 08-04-2020 6:00 PM ET
Past
---
Session NineJ Warren Cutler Scout Reservation
Friday 08-07-2020 12:00 PM ET to
Sunday 08-09-2020 6:00 PM ET
Past