Massawepie Scout Camps - 2023 Adirondack Treks
Event Details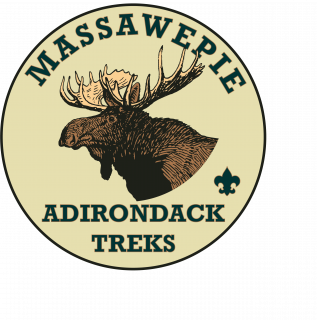 High Adventure in the Adirondacks!
Based at Massawepie Scout Camps, the Massawepie Adirondack Trek Center offers all Scouts and Scouters canoeing, backpacking, and combination treks during the months of July and August. Trek groups can participate in established trek destinations throughout the 6-million-acre Adirondack Forest preserve.
What are the details?
Registration is fast and easy! Prior to February 2023 all we ask for is a $300 deposit to reserve your preferred week with us. This deposit fee is non-refundable, and will be applied to your total fees.

Prior to March 25, 2023 all participants both youth and adult are priced at $525 per person. After March 25, 2023 and through June of 2023 the cost is $575 per person.

The maximum number of participants in a trek is 7. In an effort to remain conscientious of our environmental impact and align more closely with NYS Forest Regulations we are capping all treks at 7 participants for the forseeable future.

Two leaders must be 21 years of age and approved by the local council and have completed Youth Protection Training. Co-ed groups are required to include one male and one female advisor. Voyageur Guides are assigned to every trek group and are certified as meeting all New York State requirements.

Participants in High Adventure programs must be a registered Scouts-BSA, Venturer, or Explorer, as well as be 13 years of age by January 1 of the year of participation.

All participants in canoeing treks must pass the National BSA swim check.

All groups are required to follow all National BSA safety guidelines and NYS DEC wilderness use policies.
Three Day Trek vs Six Day Trek
The three day trek is designed to be added to the beginning or the end of the unit's time at camp. Head to camp three days early and explore the Adirondacks or once camp finishes head out on a three day trip to top off your summer experience.
Six day treks are designed to be a complete summer camp experience for a group. Unit's that participate in the six day trek program are coming to camp knowing that their trip will be the best guided adventure available in the Adirondacks
Please direct any questions to TREKS@senecawaterways.org
Visit our updated website to learn more! - https://senecawaterways.org/massawepie-adirondack-treks/
When & Where
Week #1 - 7/3Massawepie Scout Camps
Sunday 07-02-2023 12:00 AM ET to
Saturday 07-08-2023 11:59 PM ET
Past
---
Week #2 - 7/10Massawepie Scout Camps
Sunday 07-09-2023 12:00 AM ET to
Saturday 07-15-2023 11:59 PM ET
Past
---
Week #3 - 7/17Massawepie Scout Camps
Sunday 07-16-2023 12:00 AM ET to
Saturday 07-22-2023 11:59 PM ET
Past
---
Week #4 - 7/24Massawepie Scout Camps
Sunday 07-23-2023 12:00 AM ET to
Saturday 07-29-2023 11:59 PM ET
Past
---
Week #5 - 7/31Massawepie Scout Camps
Sunday 07-30-2023 12:00 AM ET to
Saturday 08-05-2023 11:59 PM ET
Past
---
Week #6 - 8/7Massawepie Scout Camps
Sunday 08-06-2023 12:00 AM ET to
Saturday 08-12-2023 11:59 PM ET
Past