Event Details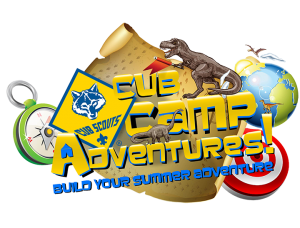 Cub Scout Adventure Camp (CSAC)
at J. Warren Cutler Scout Reservation
The Adventure takes place at the J. Warren Cutler Scout Reservation located near Naples, New York in the beautiful Bristol Hills. Cub Scouts live in one of five themed villages for three days and two nights. While there they participate in camp-wide activities such as boating and fishing, swimming, nature, archery, and shooting sports as well as themed village programs.

Cub Scout Adventure Camp Sessions
Cub Adventure Camp is scheduled with our parents in mind. It can be difficult to take time off from work to attend camp with your Scout during the summer but most will agree it's worth it. Our schedule is family and work friendly.
Camp is fun when you attend as a Parent & Scout pair but it's MUCH more fun when you attend as a Den or as a Pack. Wolves, Bears, and Webelos Dens can sign up following the Adult to Scout Ratio for Cub Scouts (2 adult to every 8 youth). Sign up to attending as a group sign or sign up on your own. Cub Scouts can go camping, don't miss out on the fun this summer.
HOW MUCH:
Regular rate - $225
Early Bird Rate - $175
Adult rate $90
Cub Scout Leaders please take note of the following dates:
1) Camp Fees:
Camper Deposits must be paid in full by April 1, 2022
Early Bird Fee must be paid in full by May 15, 2022
Scouts who missed Early Bird deadline must have fees paid in full by June 30, 2022
Youth who have joined scouting in the Spring (Feb-June) are Eligible for early bird rates. Be sure to select "New Scout in Spring".
Special Programs and Sessions

Parent-Friendly Session
It can be difficult for a Cub Scout to attend camp with one parent when there are non-Scouts who might be left at home. Have no fear! Siblings ARE WELCOME HERE! That is right - you can sign up to bring your Cub Scouts siblings to attend with them for all the fun ( a parent must register to attend with the Cub Scout Sibling registration)

Cub Scout Adventure Camp Villages
| Village | Description |
| --- | --- |
| Medieval Castle | Walk over a drawbridge and back into Medieval times. As a "Good Knight" or princess, you will get to create your own tunic or tiara which you will need to participate in the royal Tournament. There you will test your strength, courage, and teamwork skills by designing your own Knight obstacle course. |
| | |
| High Seas Pirate Ships | Ahoy mates and welcome to the High Seas! Grab your fishing pole and your bathing suit because you are going on an adventure with your captain and first mate. You will battle each other from ship to ship in a sponge war, use a map and compass to "Find your Way" to the missing treasure, and enjoy the pirate-themed fun all session long. |
| | |
| Pioneer Fort | Howdy partner! Get ready for life in the 1800's when you step inside Fort Radcliff to meet your sheriff. You will spend your days as a settler, hiking throughout camp and making your own homemade butter. You will also sharpen your aquatics skills and head "Into the Woods" to learn about the plants and animals in the world around us. |
| | |
| Mountain Man Brigade | Welcome to the rugged life on the frontier. Learn about and try building your own campsite improvement with the other seven people in your brigade. You will sharpen your fire building skills and cook your own dinner over a fire you have created! And don't forget about our awesome Camp Cutler Mud Run. To round out this adventure you will learn all about the amazing programs and adventures that await you as a Boy Scout. |
Campsite Matrix
High Seas
(capacity: 99 units, 48 attendees)
Session One


107 WE
138 WE
260 WE
6
20
2
Session Two
225 ET
2
Session Thre



332 ET
25 GL
107 WE
521 WE
12
7
14
8
Session Four
163 WE
17
Session Five



105 ET
2005 HF
65 HF
166 WE
10
11
4
18
Session Six



20 HF
178 WG
332 ET
11 GL
3
21
2
11
Session Seve




137 WE
80 WE
243 WG
275 WG
67 ET
8
23
9
4
8
Session Eigh
63 GL
36
Session Nine


69 GL
88 GL
166 WE
29
15
2
Medieval Castle
(capacity: 99 units, 44 attendees)
Session One

68 HF
316 WG
10
14
Session Two


171 ET
SWC
277 WG
19
3
14
Session Thre
463 WE
46
Session Four
273 ET
36
Session Five
468 GNFC
50
Session Six
203 HF
22
Session Seve

291 ET
5 GL
10
27
Session Eigh

30 GL
155 BPC
26
14
Session Nine
126 WE
30
Mountain Man
(capacity: 99 units, 60 attendees)
Session One

225 ET
107 WE
6
4
Session Two

40 GL
152 HF
2
6
Session Thre

332 ET
463 WE
14
28
Session Four

163 WE
225 ET
7
4
Session Five



10 ET
49 GL
568 GNFC
80 WE
13
15
16
17
Session Six
Session Nine




105 ET
171 ET
126 WE
262 WE
156 WG
16
4
1
24
8
Native American Village
(capacity: 99 units, 40 attendees)
Session Thre
48 WG
15
Session Four
601 GNFC
22
Session Five
Session Seve

32 GL
122 WE
11
7
Session Nine



50 GL
74 GL
65 HF
275 WG
16
10
6
13
Pioneer Fort
(capacity: 99 units, 44 attendees)
Session One
67 GL
32
Session Two


171 ET
3041 FRC
3041 FRC
22
5
9
Session Thre
330 WG
36
Session Four
9 WE
15
Session Five


231 HF
233 HF
420 HF
10
18
16
Session Six
225 ET
40
Session Seve
362 ET
53
Session Eigh

74 GL
474 WE
14
9
Session Nine
126 WE
44
LEGEND
No units or participants registered for campsite
Campsite is reserved but has room for additional unit(s)
Campsite has reached unit or participant limit
When & Where
Session OneJ Warren Cutler Scout Reservation
Thursday 07-07-2022 12:00 PM ET to
Saturday 07-09-2022 6:00 PM ET
Past
---
Session TwoJ Warren Cutler Scout Reservation
Sunday 07-10-2022 12:00 PM ET to
Tuesday 07-12-2022 6:00 PM ET
Past
---
Session ThreeJ Warren Cutler Scout Reservation
Thursday 07-14-2022 12:00 PM ET to
Saturday 07-16-2022 6:00 PM ET
Past
---
Session FourJ Warren Cutler Scout Reservation
Sunday 07-17-2022 12:00 PM ET to
Tuesday 07-19-2022 6:00 PM ET
Past
---
Session FiveJ Warren Cutler Scout Reservation
Thursday 07-21-2022 12:00 PM ET to
Saturday 07-23-2022 6:00 PM ET
Past
---
Session SixJ Warren Cutler Scout Reservation
Sunday 07-24-2022 12:00 PM ET to
Tuesday 07-26-2022 6:00 PM ET
Past
---
Session SevenJ Warren Cutler Scout Reservation
Thursday 07-28-2022 12:00 PM ET to
Saturday 07-30-2022 6:00 PM ET
Past
---
Session EightJ Warren Cutler Scout Reservation
Sunday 07-31-2022 12:00 PM ET to
Tuesday 08-02-2022 6:00 PM ET
Past
---
Session NineJ Warren Cutler Scout Reservation
Thursday 08-04-2022 12:00 PM ET to
Saturday 08-06-2022 6:00 PM ET
Past