Camp Gorton 2024 Scouts BSA Resident Camp
Event Details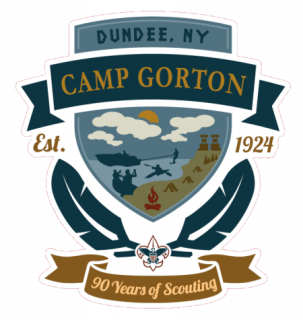 Camp Gorton is located outside of Dundee New York on beautiful Waneta Lake. During the summer, Camp Gorton offers both Cub Scout Resident camp and Boy Scout Resident camp programs.
Camp Gorton overs over 50 merit badges each summer including 9 or more Eagle Required Merit Badges along with an extensive open program that includes the Gorton Trail Hiker Award, Shooting Sports Top Shot Award, Nature Award, Scoutcraft Frontiersman Award, Polar Swim and Fish, Mile Swim, and several other programs. Designed to meet the demands of new scouts to the experienced scout at camp.
It is strongly recommended that Unit Leaders enable parent portal. When this is done you will have log-in cards to print and give to your parents. They can then log in and access their Scouts registration, fill out forms and make payments.
Registration Timeline
7/6/23 - 2/02/24 - Only $100 Deposit and number of adults and Scouts needed
2/01/24 - Names will have to be entered. At this time the $100 paid as a deposit can be credited towards the Scouts and adults that are named.
3/15/24 - Last day to submit Campership
5/15/24 - Last day to pay off registration for Early bird price
6/1/24 - Last day to pay off registration for Regular price
5/20/24 at 6pm - Merit Badge signup will turn on.
To watch a video on the registration & merit badge signup software CLICK HERE
To watch a video on Merit Badge Sign Up done on 5-21 Click Here
Parent Portal: To set this up, in your registration under Registration Contact there is a drop down box called Additional Actions. Parent Portal is there and directions for use. For Parents to access this look at the footer of www.fiverivers.org
To review the video presentation about our COVID safety plan and how we are going to make things safe please click here
To help keep costs low, we are asking for donations of different items needed to help keep camp safe & clean. Any and all donations are greatly appreciated. Please click here for the supplies list and how to donate.
You should recieve an email confirmation once registration is complete. If not check your spam folder for an email from no-reply@247scouting.org
Campsite Matrix
Algonquin
(capacity: 2 units, 30 attendees)
Session 1

4B SWC
638G BPC
8
7
Session 2

18B SF
55B LC
10
11
Session 3
Andaste
(capacity: 2 units, 24 attendees)
Session 1
Session 2
Session 3
Blackfoot
(capacity: 2 units, 30 attendees)
Session 1
Session 2
Session 3
106B EM
11
Cayuga
(capacity: 2 units, 32 attendees)
Session 1
Session 2
Session 3
Cherokee
(capacity: 2 units, 28 attendees)
Session 1
Session 2
3097B BH
8
Session 3
Don Cobb
(capacity: 2 units, 30 attendees)
Session 1

38B BPC
4B SWC
10
2
Session 2
43B BH
6
Session 3
Iroquois A
(capacity: 2 units, 40 attendees)
Session 1
85B WNYSC
35
Session 2
Session 3
Iroquois B
(capacity: 2 units, 20 attendees)
Session 1
4B LC
20
Session 2
55B BPC
13
Session 3
Mohawk
(capacity: 2 units, 30 attendees)
Session 1
Session 2

1009B SF
16B SF
6
10
Session 3
45B SF
8
Oneida
(capacity: 2 units, 26 attendees)
Session 1
Session 2
79B SF
14
Session 3
Onondaga
(capacity: 2 units, 40 attendees)
Session 1
Session 2
19B SF
10
Session 3
55B SWC
10
LEGEND
No units or participants registered for campsite
Campsite is reserved but has room for additional unit(s)
Campsite has reached unit or participant limit
When & Where
Session 1Camp Gorton
Sunday 07-14-2024 1:00 PM ET to
Saturday 07-20-2024 10:00 AM ET
---
Session 2Camp Gorton
Sunday 07-21-2024 1:00 PM ET to
Saturday 07-27-2024 10:00 AM ET
---
Session 3Camp Gorton
Sunday 07-28-2024 1:00 PM ET to
Saturday 08-03-2024 10:00 AM ET