Virtual Archaeology Merit Badge
Event Details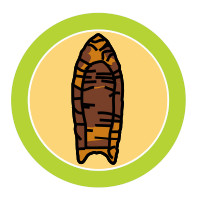 Baden-Powell Council presents:
Archaeology Merit Badge
the first of three Merit Badges in our STEM Series in partnership with Museum of the Earth!
When: Tuesday, November 23, 2021 6:00 – 8:00 pm Eastern Standard Time
Cost: $37
Scouts will be able to complete over 80% of this badge with Archaeology Experts from the Museum of the Earth!!
Scouts will be able to earn their archaeology badge by participating in Museum of the Earth's two-hour virtual presentation as well as a series of self-guided activities. This presentation focusing on New York State Archaeology will be interspersed with opportunities, facilitated within breakout rooms, for Scouts to share what they discovered from their pre-activity and learn to think like an archaeologist by explaining and presenting a family heirloom or item.
The educator-lead presentation will focus heavily on what archaeology is, the steps taken to make sure a dig is successful, and rules and regulations regarding the protection of sites and artefacts. The self-guided activities will focus on how one's environment and culture effects objects, making them artefacts for future study. The purpose of both of these activities is to put the scouts in the mindset of an archaeologist in a time when in-person digs and lab work aren't possible.
We are asking parents and Scout Leaders to help us lead small breakout room Groups for discussion as part of this program. If willing to help, please email Chris.Ambra@scouting.org.
Pre-requisites (Items not able to be completed during the online class): Requirement 4b, 8a or b (This requirement requires a visit to archaeologists work-site or a simulated work site with a qualified work-site and cannot be done online. However there is no requirement that they have this done before the class. We simply cannot complete this requirement during the online class.) In order to complete 8a or 8b, we would suggest approaching a local university, school science teacher, or local museum about completing this requirement.
Upon successful completion of the above Pre-requisites and attendance at the class the Archaeology Merit Badge will have been completed.
For the pre-requisites- Following the class, proof of the requirements (pictures, documents, etc.) can be emailed to Chris.Ambra@scouting.org This can be done up through December 1, 2021. Electronic Blue Cards will be available through the 247Scouting Black Pug System after December 5, 2021.
The Archaeology Merit Badge Worksheets are available to the right for Scouts that choose to use them. >>>>>>>>>>>>>>>>>>>>>>
When & Where
Online
Tuesday 11-23-2021 6:00 PM ET to 8:00 PM ET
Past