2019 Annual Youth Leadership Brunch 904977 or 900977
Event Details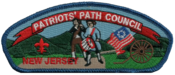 2019 Annual Youth Leadership Brunch
Join the Patriots' Path Council Youth Executive Committee and Various other youth leaders at Perona Farms for a morning of recognition!
Our Keynote Speaker is Mrs. Jennifer Hancock
Jennifer has served in countless roles to support the Venturing program, include the Southern Region Venturing Chairwoman and Venturing's International Relations Liaison. She now serves as the National Venturing Chairman.
This year we will be honoring the outstanding youth who earned the following Patriots' Path Council recognitions:
o NYLT Award
o Camp Staffer of the Year
o Venturing Leadership Award
o Exploring Spurgeon Award
o Youth Leadership Award
Purchase a journal ad to recognize our honorees and support the Youth Executive Committee!
$15 Half Page or $25 Full Page Color Recognition Ad
*Submit ads to Jkbittner2@aol.com by February 17, 2019
Have any questions?
Ali Ansari, Brunch Chairman at ali.h.ansari13@gmail.com
Dennis Kohl, Advisor at dennis.kohl@scouting.org or 973.765.9322 X245
When & Where
Perona Farms
Sunday 02-24-2019 10:30 AM ET to 1:30 PM ET
Past