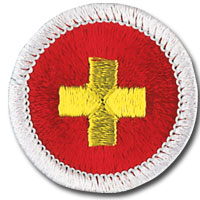 THIS EVENT WAS RESCHEDULED FROM DECEMBER 2017. SAME LOCATION AND TIMES.
IF YOU HAD PREVIOUSLY REGISTERED YOUR REGISTRATION HAS BEEN CARRIED FORWARD. IF YOU CAN NOT LONGER ATTEND PLEASE CONTACT Beth at beth.millerporter@scouting.org or 973-765-9322 x259.
Held at Somerset County Emergency Services Training Academy
Boy Scout Patrols will be competing using first aid problem scenarios. The minimum Patrol size is 4; maximum is 8.
Given the location size, only the first 38 Patrols will be supported.
Judges and victums do not need to be registered, but will receive an event patch.
The Event Informational Packet is available at www.rv.ppbsa.org
Questions' Contact Wayne Tatum at rvfirstaidmeet@gmail.com
Day of Event Checkin at 8:00 am
Program begins at 8:30 am*(preliminary demo)
Wayne Tatum
rvfirstaidmeet@gmail.com

Art Lobdell
Field Director
Art.Lobdell@scouting.org
973-769-2340

Patriots' Path Council Service Center
1 Saddle Rd
Cedar Knolls, New Jersey 07927
Phone: 973-765-9322

Saturday 01-20-2018 8:00 AM to 1:00 PM
Past
Somerset County Emergency Services Training Academy

Map this event
Coords: 40.5303924, -74.6394769
402 Roycefield Rd
Hillsborough, New Jersey 08844