Event Details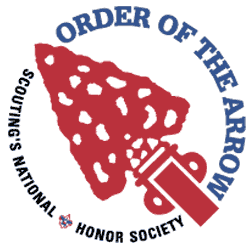 Check-In Time: Friday Night : Working Brothers 6:30 pm - 7:30 pm , Ordeal Candidates 7:30 pm - 8:30 pm
Departure Time: Saturday Night : 7:30 pm in the camping parking lot
Cost: $30.00 Ordeal Candidates, $15.00 Working Brothers, $25.00 Brotherhood Candidates, Elangomat $7.50
NEW! PRE-ORDER YOUR OA T-SHIRT AND PICK IT UP AT THE UPCOMING EVENT!
---
POLICIES
Please remember to register, no walk ins will be allowed.
If you leave camp before the end of the event, you will not be allowed to return.
You are required to submit a BSA medical form.
You will not be allowed at the event if they are not completed.
---
What to Bring (Required): 1. It goes without saying, but please remember to wear a mask. You will not be required to wear the mask while working within your clan, but will need to do so when interacting with others at various times throughout the day (i.e: registration/check-in, lunch, etc.). 2. Also, make sure to bring a day pack with hand sanitizer, water bottle, rain gear and work gloves. 3 . The trading post will be open, so bring money as well if you would like to make a purchase. 4. Please wear work clothes to the event as the OA will be conducting service projects throughout the weekend. Pack a complete uniform and a tent.
Tentative Schedule
Friday Night
Cracker Barrel
Saturday
Breakfast
Service Project
Lunch
Service Project
Dinner
Ceremony
Departure at 7:30 pm
No Camping Saturday PM
---
AS PER NJ STATE PROCEDURES
NO WALK-INS WILL BE ALLOWED TO PARTICIPATE AT THE EVENT!
Check In/Out process:
Check-in for the Ordeal will begin at 6:30 pm. ( Working Brothers 6:30 pm - 7:30 pm , Ordeal Candidates 7:30 pm - 8:30 pm). You will receive a temperature check upon arrival to camp (while still in your car) and before check-in. Check-out will take place at 7:30 pm in the camp parking lot , so make sure you have an adult at camp to pick you up at that time. Due to the COVID-19 guidelines, we must get all attendees out of camp as quickly as possible when your clan is dismissed following the program's end. You will be dismissed directly from your clan at 7:30 pm and must not gather with others until leaving camp property.
Questions: Please contact the OA Advisor Marty Foy at MFoyBSA@gmail.com.
When & Where
Save the Date May Ordeal and Fellowship Weekend
Mount Allamuchy Scout Reservation
Friday 05-20-2022 8:30 AM ET to
Sunday 05-22-2022 10:00 AM ET

---
Save the Date June Ordeal and Fellowship Weekend
Winnebago Scout Reservation
Friday 06-17-2022 6:30 PM ET to
Sunday 06-19-2022 10:00 AM ET

---
Save the Date September Ordeal and Fellowship Weekend
Mount Allamuchy Scout Reservation
Friday 09-23-2022 6:30 PM ET to
Sunday 09-25-2022 10:00 AM ET