Event Details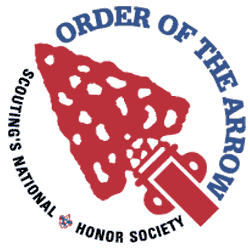 Lodge dues are $20 per year ($15 if paid before 02/01/2023). Our dues period is January 1st through December 31. By having your dues paid for 2023, you are allowed to show your membership by wearing your lodge flap. You are eligible to register for a number of Order of the Arrow events such as Conclave, Spring and Fall Fellowship Weekends, Lodge Banquet, and much more! A portion of your dues goes to the annual charter fee to National, to offset local Woapalanne OA programs, and to overall support to Patriots' Path Council.
There is no option for the Woapalanne Package Plan for 2023; however, if you had paid for the Woapalanne Package Plan in 2020, you will receive a total of 4 years dues as there were no Ordeal weekends in 2020 (WP 2020- Paid dues for 2020, 2021, 2022, 2023). Please select the option "Woapalanne Plan paid in 2020" when registering to receive this offer.
Brothers on active military duty do not pay dues and must reach out to the Lodge Adviser for more details.
Membership in the Woapalannne Lodge of the Order of Arrow requires:
Active paid primary BSA registration within Patriots' Path Council.
Members 18+ must have current youth protection.
Be an eligible member with successful completion of the Ordeal process.
If you have been separated from the OA in Patriots' Path Council for over 10 years or are transferring from another Council, please fill out the reengagement form: https://247scouting.com/forms/358-reengageOA
If you are no longer registered with the BSA, please do not make a dues payment.
By registering for dues, you agree to be contacted by e-mail for notifications on OA business within the Council. To unsubscribe from emails (uncommon choice), please contact the Lodge Adviser.
When & Where
Patriots' Path Council
Monday 12-19-2022 12:00 AM ET to
Sunday 12-31-2023 11:59 PM ET