Merit Badge Introduction 900031
Event Details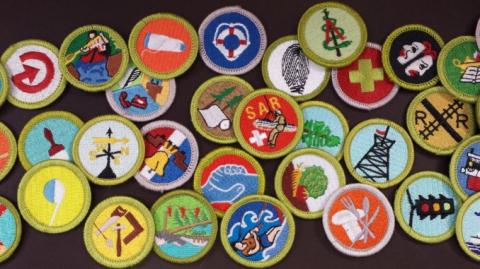 Merit Badge Introduction Workshop
Sponsored by Patriots' Path Council Advancement Committee at:
Bedminster Elementary School
234 Somerville Road
Bedminster, NJ 07921
Check-in 8:30 am
Classes begin: 9:00 am
Classes end: 1:50 pm
The purpose of the workshop is to introduce badges to the Scouts and to help them understand the merit badge process. For most of the merit badges, Scouts will be able to obtain a "partial" but will not be able to complete the merit badge at this event.
Registration opens: Friday, November 11th at 9:00 am.
Registration closes: Sunday, December 4th at 11:59 pm.

Registration is $10 per Scout, plus $5.00 per session.
Class list and schedule will be in the attachments.
PRE-REGISTRATION IS REQUIRED FOR CLASSES
No walk–ins on the day of the workshop
There are 4 sessions during the day--- Merit badge classes will either be 1 or 2 sessions in length.
Lunch will not be provided but there is a break from 11:10 am - 11:40 am. Please bring a bagged lunch. You will only be allowed to eat in the cafeteria. No food is permitted in the classrooms.
Several classes are offered more than once (labeled A and B). The same material is covered in each class. You will not be able to sign up for more than one occurrence of any class.
Most class sizes are limited to 20 (some may be less).
Each Scout MUST bring a blue card or blue card report from Scoutbook signed by his or her scoutmaster for each merit badge. If using Scoutbook, invite the named instructor as merit badge counselor.
Each Scout should bring the CURRENT merit badge book and/or the printout of CURRENT merit badge requirements from Scouting.org for each badge
Each Scout MUST read and be familiar with the merit badge requirements before going to the class
Each Scout MUST wear their Class A uniform & bring their registration printout
A responsible adult MUST accompany each Scout in person to the registration table
Each Scout MUST check the Course Catalog (link above right) for any badge-specific prerequisites to complete ahead of class or materials or equipment to bring to the workshop.
PLEASE NOTE: Schedules, class descriptions and spaces left in each class are available in the attachments.
When & Where
Merit Badge WorkshopBedminster Elementary School
Saturday 12-10-2022 8:00 AM ET to 1:15 PM ET
Past