University of Scouting 2021
Event Details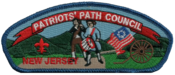 Patriots' Path Council University of Scouting
When: December 4, 2021
Where: The Academy of Our Lady of Peace
99 South Street
New Providence, NJ 07974

Times: Check-In: 8:00 am
Opening Ceremony: 8:30 am
Classes Start: 9:00 am
Closing Ceremony: 3:20 pm
MASKS ARE REQUIRED FOR THIS EVENT
Registration: Open to registered members of Patriots' Path Council only through October 31, 2021. Registration to out of council registrants will begin on November 1, 2021.

Registration closes on November 28, 2021. We cannot accomodate late registrations or walk ins.
Scouts BSA and Venturers may attend the U of S if they are taking courses as youth leaders/potential youth leaders. NO children are allowed in the classrooms, except Scouts BSA and Venturers taking courses. (Child care will NOT be available at this event).
Participants attending Cub Leader Position-Specific Training at the University of Scouting will receive an automatic $15 discount off registration fees. The discount will appear at check out.
Special: Bring a buddy who was not at the 2020 U of S and earn a Buddy-Tag Patch
Please note the attachments on the right side of the screen:
The Class Schedule is a list of all classes and the time periods they occur displayed on a grid. It is divided in the 3 types of classes offered: General, Cub Scout and Boy Scout/Venturing.
The Event Class Catalog is a list of all the classes offered with the description of each. It is divided in the 3 types of classes offered: General, Cub Scout and Scouts BSA/Venturing.
STAFF NOTES: If you are on staff, you need to register, even if you are not taking any classes. You must also complete the registration by completing the check out process to be registered.You must pay for a lunch if you want one.
When & Where
Our Lady of Peace Academy
Saturday 12-04-2021 8:00 AM ET to 3:30 PM ET