Virtual University of Scouting and Den Chief Training 2020
Event Details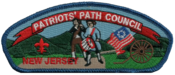 Patriots' Path Council Virtual University of Scouting and Den Chief Training
When: December 5, 2020
Opening Ceremony: 8:45 am
Classes Start: 9:00 am (Den Chief Class starts at 8:30 am)
New for 2020!
Advancement for Scouts with Special Needs and Disabilities: This session will explain in detail all parts of Section 10 in the Guide to Advancement. A copy of this is available at https://www.scouting.org/resources/guide-to-advancement/ This session could run into the 15-minute break.
Cold/Bad Weather Camping (New for 2020): Cold weather and bad weather, as in extreme rain, snow and wind conditions, can make camping very challenging. Attend this class and we will help better prepare you for that wintertime campout.
NYLT For Scoutmasters (New for 2020): Sending your scouts to NYLT is an investment in the long-term health and vitality of your unit. This course will give unit leaders a comprehensive overview of the six-day NYLT program.
Putting Cub Scout Leader Position-Specific Training into Action: Now that you have completed the Cub Scout Leader Position-Specific Training, learn how to put it in action. Get answers to your questions, helpful tips about developing your den and pack program and find out about all of the resources Patriots' Path Council has to offer to make your Cub Scouting program successful.
Risk Management Overview (New for 2020): An overview of the Risk Management function in council and its main areas of focus. A Q & A session will be a portion of this course.
Virtual Scouting (New for 2020): This course will discuss the lessons learned from virtual scouting, things that worked and things that didn't. It will also offer insights into how virtual platforms can be utilized in scouting go forward as we return to our new normal.
Youth Protection Q & A (New for 2020): An interactive discussion pertaining to current youth protection standards. Come prepared with questions and participate in an instructor led discussion with fellow scouters. This is not a certification course.
We have more than 90 additional virtual classes to choose from.
Check out our Virtual Den Chief Course!
Den Chief Training: If your Scout will be taking Den Chief training and additional classes, they will receive a special Den Chief registration discount, making the training $10. If your Scout is only taking Den Chief Training, a $10 credit will be applied to the registration cost, making the training free of charge.
Youth Course Attendance: Scouts BSA and Venturers may attend the U of S if they are taking courses as youth leaders/potential youth leaders. NO children are allowed in the virtual classrooms, except Scouts BSA and Venturers taking courses!
Please note the attachments on the right side of the screen:
The Class Schedule is a list of all classes and the time periods they occur displayed on a grid. It is divided in the 4 types of classes offered: Academy for Special Needs in Scouting, General, Cub Scout and Scouts BSA/Venturing.
The Event Class Catalog is a list of all the classes offered with the description of each. It is divided in the 4 types of classes offered: Academy for Special Needs in Scouting, General, Cub Scout and Scouts BSA/Venturing.
Protocol for Virtual classes:
Please register and login with your email.
When logging in, please identify yourself with your name and unit number.
Please have your camera on.
Dress appropriately, we recommend wearing your uniform.
No recording of any type will be allowed for any class sessions.
All participants MUST register by November 22, 2020. We cannot accommodate late registrations or changes for this event.
When & Where
Patriots' Path Council Service Center
Saturday 12-05-2020 8:30 AM ET to 3:15 PM ET