Event Details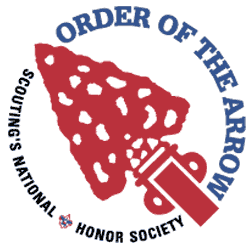 Check-In Time: Check-in starts at 6:00 pm Friday in the Dining Hall
Departure Time: Departure time is scheduled for approx. 10:00 am Sunday
Cost: $45.00 Ordeal Candidates, $15.00 for Working Brothers, $30.00 for Brotherhood Candidates.
What to Bring (Required): 1. A small day-pack containing work gloves, a poncho, a sleeping bag, a plastic ground cloth, a water bottle, bug spray, a pocket knife, flashlight, and any medications that you will need. 2. A large pack containing a tent, a full Class A uniform, a change of clothes, and any other equipment for camping. 3. A carved wooden arrow approximately 6 inches long. Put a string around the arrow and wear it around your neck. (Ordeal Members ONLY) (Note that this must be done prior to check-in!)
Remember: 1. Wear work clothes when you check-in, not a uniform. 2. These clothes must be appropriate for painting or staining. 3. Be sure to complete Parts A and B of the Annual Health and bring it with you to the event along with a photocopy of both sides of your medical insurance card and any medications that you may need during the weekend. If you have any medical or restrictive conditions please contact the Lodge Adviser Mr. Marty Foy at mfoybsa@gmail.com. 4. Bring some spending money. The OA Trading Post will be open during the weekend with various items for sale. 5. Please eat dinner prior to your arrival; no food will be served the first night.
When & Where
May Ordeal and Fellowship WeekendMount Allamuchy Scout Reservation
Friday 05-08-2020 6:00 PM ET to
Sunday 05-10-2020 10:00 AM ET
Past
---
June Ordeal and Fellowship WeekendWinnebago Scout Reservation
Friday 06-12-2020 6:00 PM ET to
Sunday 06-14-2020 10:00 AM ET
Past
---
September Ordeal and Fellowship WeekendMount Allamuchy Scout Reservation
Friday 09-25-2020 6:00 PM ET to
Sunday 09-27-2020 10:00 AM ET
Past