Florida Sea Base Contingent 2019
Event Details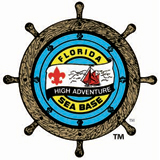 The Mid-America Council will be sending a council contingent to the Florida Sea Base in 2019! We are planning to send 1 crew, 6-8 people, on the St. Thomas Eco Adventure. Scouts will set sail aboard a 40-foot-plus yacht with an experienced captain, and have the opportunity to sail and snorkel. They will team up with the University in the Virgin Islands and do research in turtle counts, coral reefs, or other environmental ecosystems. The Sea Base Contingent Committee reserves the right to not accept a registration if the candidate is not fit physically or emotionally for the trip.
FLORIDA SEA BASE
The Florida National High Adventure Sea Base is a unique Scouting program that offers aquatics programs found nowhere else. (www.bsaseabase.org)
WHO
Individual or group registrations will be accepted. Must be a currently registered Boy Scout, Varsity Scout, Venturer, or Sea Scout.
Minimum age: Sea Base requires that all youth must be 14 years of age OR 13 years of age AND have completed the 8th grade. NO EXCEPTIONS. Participants must be able to swim 100 yards (BSA swim test) and stay afloat for one minute. Participants cannot weigh in excess of 295 pounds. Participants must know and use the Scout Oath and Law as their guide to appropriate behavior.
WHEN
July 15, 2019 - July 23, 2019 (tentative dates)
COST
The total fee for contingent participants will be approximately $2,500. The fee includes all Florida Sea Base fees, all air and ground travel, meals, and special mementos for the Mid-America Council contingent. Spots are limited to first-come, first-serve. A non-refundable $200 deposit is required to reserve a spot.
Participants will receive additional information late 2017, throughout 2018, and early 2019 related to travel arrangements, program opportunities, and trip preparations. The Mid-America Council reserves the right to add qualified participants to all crews up to the maximum registration limit.
Each participant must complete the required health forms for the Florida Sea Base Contingent trip. Click here to download all appropriate health forms.
When & Where
Florida Sea Base

Monday 07-15-2019 12:00 AM CT to
Tuesday 07-23-2019 12:00 AM CT

Contact
John Franklin
High Adventure Committee Chair
jjoaquimfranklin@aol.com

Christine Sammons
Camping Director
christine.sammons@scouting.org
402-514-3006

Durham Scout Center
12401 W Maple Rd
Omaha, Nebraska 68164
Email: mac@scouting.org
Phone: 402-431-9272