2020 MAC Husker Trails College of Commissioner Science
Event Details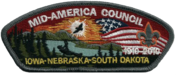 MAC Husker Trails College of Commissioner Science
The MAC Husker Trails College of Commissioner Science offers something for every registered scout leader! You will be able to select the track you want to study and choose electives to meet your need. Commissioners are encouraged to use this continuing education event to facilitate improved service to their units/Districts/Councils.
College of Commissioner Science Continuing Education -
WHEN: March 21, 2020 from 8-5
WHERE TBD
COST: $20 until March 10, then $25 (Includes lunch and appropriate certificates and patches.
See the Prerequisites attachment for the courses offered below.
Unit Commissioner (Associate)
Commissioner Basic (4 hours)
+ 3 Electives
DC/ADC (Associate)
DC Commissioner Basic
+ 3 Electives
Unit Commissioners (Bachelor)
BCS-104 Contacting Units
BCS-105 Resolving Common Units Issues
BCS-106 Coaching Leaders
BCS-116 Collaborative Assessment
+ 3 Electives
DC/ADC (Bachelor)
BCS-101 Core Concepts of Commissioner Science
BCS-103 Linking District Resources
BCS-112 Recruiting Unit Commissioners
BCS-210 Commissioner & District Key 3
+ 3 Electives
Unit Commissioners (Masters)
MCS-304 Commissioner Service for Units at Risk
MCS-306 Mentoring Skills
MCS-309 Good Commissioners Need Both Head & Heart
MCS-351 How to Conduct the Annual Planning Session
+ 3 Electives
DC/ADC (Masters)
MCS-305 Resolving Critical Issues
MCS-311 All About ADC's Role
MCS-314 The Commissioner & The professional
MCS-312 Recruiting A Commissioner Team
+ 3 Electives
PHD
DCS-501 Selecting Your Project or Thesis Topic
DCS-502 Limiting the Scope of the Topic
DCS-503 Developing Your Project or Thesis
DCS-504 Project Thesis Open Workshop Forum
+ 3 Electives
Continuing Ed
CED-701 Combatting Commissioner Stress and Burnout
CED-712 Friend Storming
CED-713 Advance for Scout with Scout with Special Needs – The Commissioner role
CED-716 Conflict Resolution for Commissioner
+ 3 Electives
Roundtable (Bachelor)
BCS 150 Roundtable in Commissioner Service
BCS 151 The Roundtable Commissioner Team
BCS 152 The Year-Round Roundtable Planning Process & Promotion
BCS 153 Roundtable and Commissioner Tools
BCS 154/5 Cub & BoyScout Roundtable
BCS 156 Recruiting, Training and Recognizing the Roundtable Team
BCS 250 Chanllenges, games and sings
Roundtable (Masters)
MCS 352 Roundtable is over, Now What
MCS 353/4The Cub & BoyScout Breakout
MCS 355 Using the ADC/Acc for Roundtable in Your District/Council
MCS 357 Managing Long Distance Roundtables
MCS 358 Roundtables and Solving Unit Problems
MCS 450 Commissioner Contact during RT
MCS 451 Flexable Programs (How to handle unexpected changes)
ELECTIVES: Pick one for each hour (5, 6 & 7) you may select any level course
Hour 5
BCS-303 Life Saving 1
BCS-114 Understanding and Communicating with Today's Leaders
MCS-307 Commissioner Service for Newly Formed Units
MCS-401 How to Use Scout book
CED-720 A Commissioner's Introduction to Valuing Diversity
Hour 6
BCS-203 Lions
BCS-201 Commissioner Tools Reports
MCS- Onboarding New Commissioners
CED-714 Special needs Scouting – ADHD
Hour 7
BCS-202 Scouting and Changes for 2019
MCS – 315 Effective Unit Service in Rural communities
CED – 721 Valuing Diversity – Generation X
When & Where
Cornhusker Council's Outdoor Recreation Center
Save the Date
Saturday 03-21-2020 8:00 AM CT to 5:00 PM CT

Contact
Rick Holbert
College of Commissioner Science President
owlybear@cox.net
402.291.7637

John Salistean
Cornhusker Assistant Council Commissioner
councilcomm@neb.rr.com

Tim Place
Assistant Council Commissioner
se.commissioner@gmail.com
402-896-6662

Mark Mowry
Overland Trails Council Commissioner
mmowry12@gmail.com

Luke McNeese
Black Hawk District Director
luke.mcneese@scouting.org
402-514-3032

Durham Scout Center
12401 W Maple Rd
Omaha, Nebraska 68164
Email: mac@scouting.org
Phone: 402-431-9272