Event Details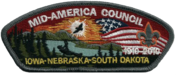 Welcome to the Mid-America Council 2021 Membership Subscription Program!
This registration is for existing Scout families that wish to enroll in the monthly payment subscripition option. Scouts who enroll in this program will not be charged on Unit recharters for their annual registration fees. The subscription will cover the national BSA membership fee (annual $66), the council program support fee (annual $60), and Boys' Life monthly magazine (annual $12). Families will pay $13 at time of sign-up for this program and then a base charge of $13 per youth starting in December and each month after. The charge will occur around the 15th of each month and will continue until the family gives a 30 day cancelation notice.
Units may add on an additional monthly charge on top of the base $13 for unit dues as worked out between the unit and family. The unit charge may be added / updated / changed at anytime by the unit. Any unit dues collected will be deposited monthly into the Unit Deposit Account (UDA).
The initial amount charged will be dependent on when a family signs up for the subscription. It will be $13 on any future months (except for added unit dues):
Before Jan 10: $13
Before Feb 10: $26
Before Mar 10: $39
When & Where
Youth RegistrationMid-America Council