Event Details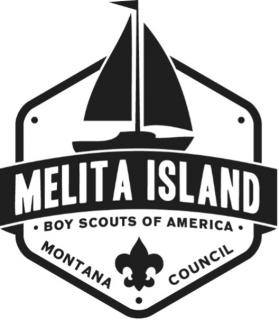 Camp Melita Island 2023
In the middle of the pristine waters of Flathead Lake lies an island gem called Melita.
Melita Island is wholly owned by the Boy Scouts of America, Montana Council, and is a little piece of paradise reserved just for Scouts to have the adventure of a lifetime. Programs at Melita Island are heavily water-based and are ideal for seasoned Scouts that are looking for something a little different than the traditional summer camp. We also have land-based activities for those who are afraid to get wet.

Update 8/12/2023: Melita Island Registration is currently full for 2023.
- Units with existing registrations can adjust attendance as needed.
- Units looking to book for 2023 can still register and be put on a waitlist or can check out our other camp, K-M Scout Ranch for another great scout camp opportunity: https://scoutingevent.com/315-2023KMScoutRanch
*New in 2023*: Because of limited spots on Melita Island, priority will be given to youth attendees.
Every unit will be permitted 1 adult per every 4 youth registered.
There will be a total of 160 spots available per week.
---
2023 Dates:
Session 1: July 9th - July 15th, 2023

Session 2: July 16th - July 22nd, 2023

Session 3: July 23rd - July 29th, 2023

Session 4: July 30th - Aug 5th, 2023

Session 5: Aug 6th - Aug 12th, 2023
2023 Fees:
Deposit: $200 per unit
Youth: $475 (Fee will increase to $500 if not paid in full by 05/15/2023)
Adults: $275
For more information, please visit our website at https://montanabsa.org/melita-island/
---
Program:
In 2022, we offered 42 different class options at Melita Island, including 35 different Merit Badges.

Courses at Melita Island include:
Trail to First Class
Sailing, Motor Boating, & Row Boating
Water Sports
Kayaking, Canoeing, & Stand Up Paddle Boarding
Swimming
Snorkeling
Fishing & Fly Fishing
Shooting Sports
Nature, Forestry, & Enviromental Science
Digital Technologies & Inventing
First Aid & Emergency Preparedness
Photography, Wood Carving, & Movie making
Plus many, many more
Advanced Camper Experience (ACE) - Additional Fee (TBD)
Experienced campers will have an opportunity to participate in ACE program. This program exists to give older scouts an opportunity to use their skills in a high-adventure setting, such as whitewater rafting, hiking, water skiing, snorkeling, sailing, and more. Each day is a new adventure drawing on past learned skills and creating memories for the future.

Adult Programs
Camp can also be fun, relaxing and a learning and rewarding experience for adults. At Melita Island we take this to a new dimension. Some learning experiences we've offered in prior years include: Intro to Outdoor Leader Skills, Safe Swim Defense, Safety Afloat, and Hazardous Weather. We have also provided several stress reducing events that you can participate in, which have included: Evening Socials, Boat Rides and Pie Making Classes.
---
CAMP SCHOLARSHIPS
A limited number of camp scholarships are available for Montana Council Scouts based on financial need. A scholarship can be requested for up to half of the camp fees. Forms can be downloaded from the council website by clicking here: http://www.montanabsa.org/wp-content/uploads/2016/02/Camp-Scholarship-Form.pdf.
CANCELLATIONS & REFUNDS
Any unit or individual Scout canceling prior to June 1st may be able to receive a refund of fees less the $200 deposit and $75 camp readiness fee for each Scout and/or adult cancellation.
After June 1st, no refunds will be issued until after the ed of the camping season. Refunds will be determined by the Council Camping Department. Valid refund reasons include death, illness, or military orders such as TDA or PCS. Refund amounts are determined based on refundable monies, which excludes food and supplies purchased, as well as other incurred costs.
All fees must be paid on time in order to hold your campsite, the unit may lose its place if fees are not on time.
When & Where
Session 1Camp Melita Island
Sunday 07-09-2023 12:00 PM MT to
Saturday 07-15-2023 10:00 AM MT
Limit One Registration Per Unit
---
Session 2Camp Melita Island
Sunday 07-16-2023 12:00 PM MT to
Saturday 07-22-2023 10:00 AM MT
Limit One Registration Per Unit
---
Session 3Camp Melita Island
Sunday 07-23-2023 12:00 PM MT to
Saturday 07-29-2023 10:00 AM MT
Limit One Registration Per Unit
---
Session 4Camp Melita Island
Sunday 07-30-2023 12:00 PM MT to
Saturday 08-05-2023 10:00 AM MT
Limit One Registration Per Unit
---
Session 5Camp Melita Island
Sunday 08-06-2023 12:00 PM MT to
Saturday 08-12-2023 10:00 AM MT
Limit One Registration Per Unit