2021 STEM University- SIUC Venturing College
Event Details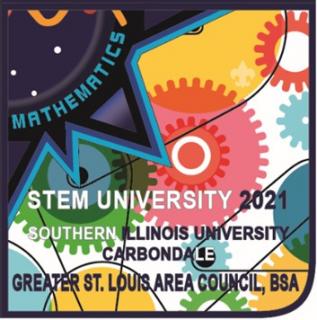 STEM U SIUC 2021 - Venturing College

What: Wade! Nova award
Who: Venturers and Crew leaders
When: Saturday, February 27th, 2021
Time: 8:30 a.m. to 2 p.m.
Where: Virtual Zoom classes - link to be shared before event
WHY: Because Science, Technology, Engineering, and Mathematics are fun!

Cost: $8.00 per youth and free per Leader/Adult. Encourage adults to attend STEM Nova Training class. Fee includes: STEM U patch and nova card.
Payment: Mastercard, VISA and Discover. Payments and registration will only be accepted online.
Registration Deadline: Sunday, February 22nd, or when capacity reached.

NO late registrations or walk-ins. Out of Council Venturers are welcome to enroll.
Venturing youth participants will be capped at 50. First come, first served. We may take more if the demand is there.
Venturers will complete the Wade! Nova (see requirements and all Nova awards here: https://www.scouting.org/stem-nova-awards/awards/venturer/)
Prerequisites: Please complete Requirement 1 (3 hours of reading/watching) before the event. (others??)
Schedule (to be adjusted):
Log In: 8:15 a.m.
Opening Ceremonies: 8:30 am to 8:50 am
Session 1: 9:00 am to Noon
LUNCH: 12:00 pm to 12:45 pm
Session 2: 12:45 to 2:00 pm (estimated)

STEM University Rules and Regulations:

During the virtual portion of the event, Venturers will be expected to:
Be in uniform and prepared to learn.
Have a watch or clock handy. Return after breaks in a timely fashion.
If possible, all Ventuters should have their cameras on during the class unless directed otherwise.
Read over the Nova requirements and work on the award prior to the class.
Participate in the award class. Simply attending is not enough to earn the Nova. You need to participate.
An adult parent or guardian needs to within ear/eye shot of the event to maintain youth protection guidelines.
Venturers need to understand how to use Zoom including how to mute themselves and how use the video function.
Venturers should, as much as possible, complete the prerequisites prior to the event. That said, partials are sometimes needed. Venturers can reach out to instructors after the event to complete the award.
Make sure to enter a valid email when registering and check your email before the event. Some instructors may send out additional information prior to class.
Adult Trainings:
A free STEM Nova Counselor/Supernova Mentor Training is also being offered for adults and parents! The training will take place on February 27 from 10-11am. The Zoom link will be emailed out to participants the week before the event. Please register as a free adult on this event to participate!
When & Where
STEM U SIUC 2021 - Venturing CollegeCouncil Service Center -- Ritter Service Center
Saturday 02-27-2021 8:30 AM CT to 2:00 PM CT
Past