2021 Introduction to Outdoor Leader Skills (IOLS)
Event Details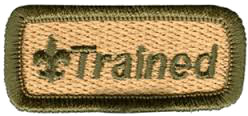 Introduction to Outdoor Leader Skills.
A new Scoutmaster and Assistant Scoutmaster is considered trained upon completion of Scoutmaster and Assistant Scoutmaster Leader Specific Training and the Introduction to Outdoor Leader Skills.
This hands-on program gives adult leaders a practical introduction to the patrol method of a boy-led troop by teaching many of the practical outdoor skills they need to lead Scouts in the out-of-doors.
"Due to Guidelines with COVID-19 the format of Introduction to Outdoor Leader Skills will be a little different. We believe that the quality of training will remain at our high standards with additional flexibility to meet your busy schedules. The training will consist of two parts:
1. Virtual training via Zoom. This will consist of one session which will be held on April 19th or April 26th. At the end of your reservatin you will be able to select which zoom session works for your schdule. The sessions will run from 6:30 pm to 9:00 pm each night. The virtrual session is required to be fully trained. The link will be sent close to the date of the zoom meeting.
2. Outdoor skills training will be accomplished in a one days session. You can choose from the follow dates and locations: Saturday, May 22nd at Beaumont Scout Reservation or Warren Levis or Saturday, May 8th at Beaumont Scout Reservation. Each session will begin promptly at 7:30 am and by 5:30 pm.
Lunch, coffee, & water will be provided during the outdoor sessions. You must wear a mask at all time & there will be COVID-19 screening when you arrive. Items to bring are: camp chair, coffee cup, water cup, day bag, rain gear, ink pen, and your mask.
We are excited to offer this training to help you bring the best program possible to the youth. Thank you for your time & dedication to the program."
This training will be a rain or shine event. This training will be max out to 50 participant each day.


When & Where
Beaumont-Saturday SessionBeaumont Scout Reservation
Saturday 05-08-2021 7:30 AM CT to 5:30 PM CT
Past
---
Pine RidgePine Ridge Outdoor Family Experience
Saturday 05-08-2021 7:30 AM CT to 5:30 PM CT
Past
---
Beaumont Saturday SessionBeaumont Scout Reservation
Saturday 05-22-2021 7:30 AM CT to 5:30 PM CT
Past
---
Warren Levis-SaturdayCamp Warren Levis
Saturday 05-22-2021 7:30 AM CT to 5:30 PM CT
Past